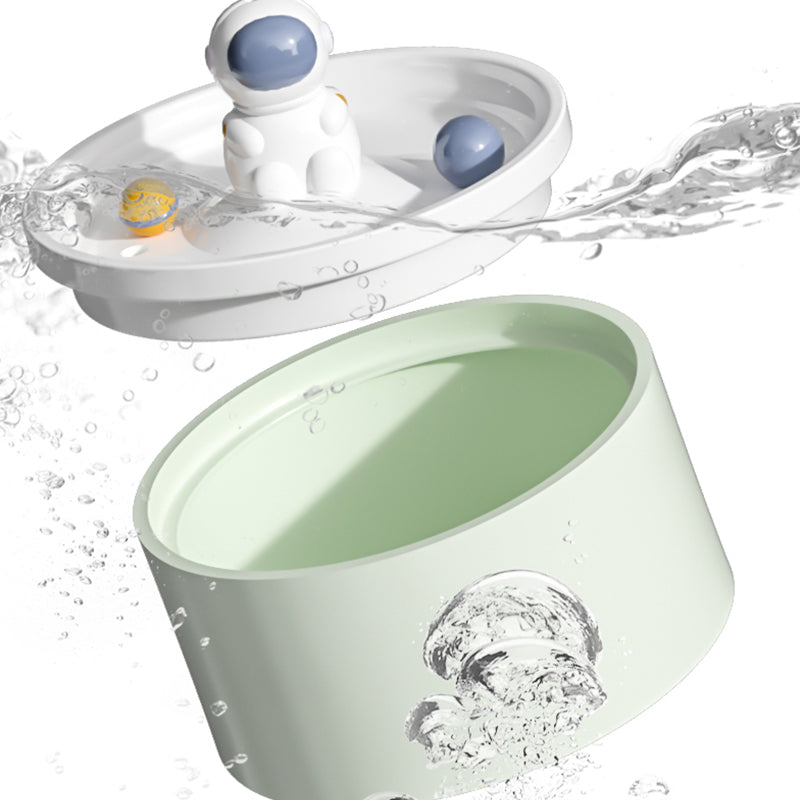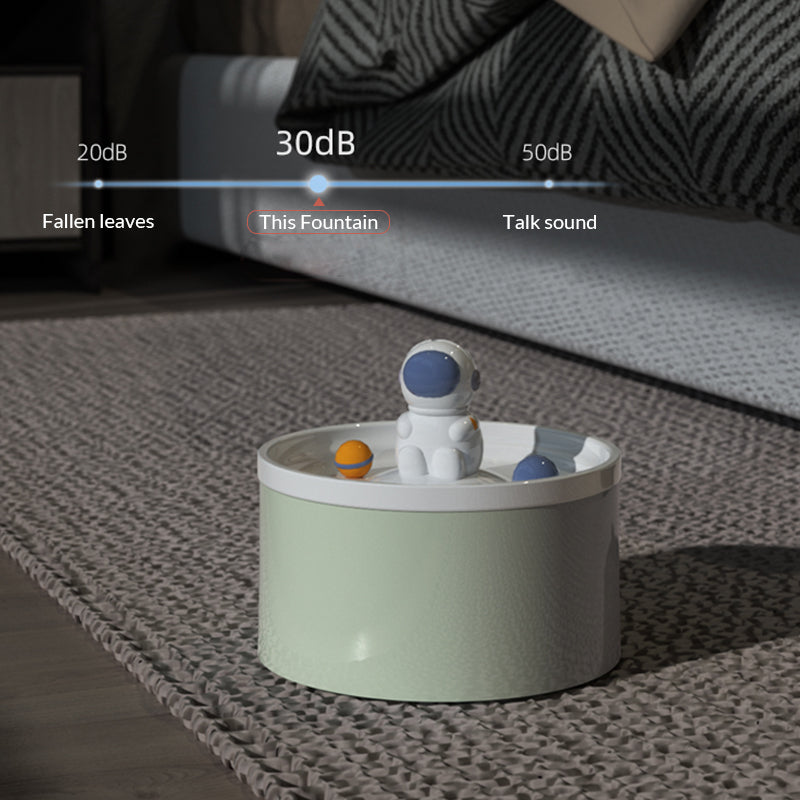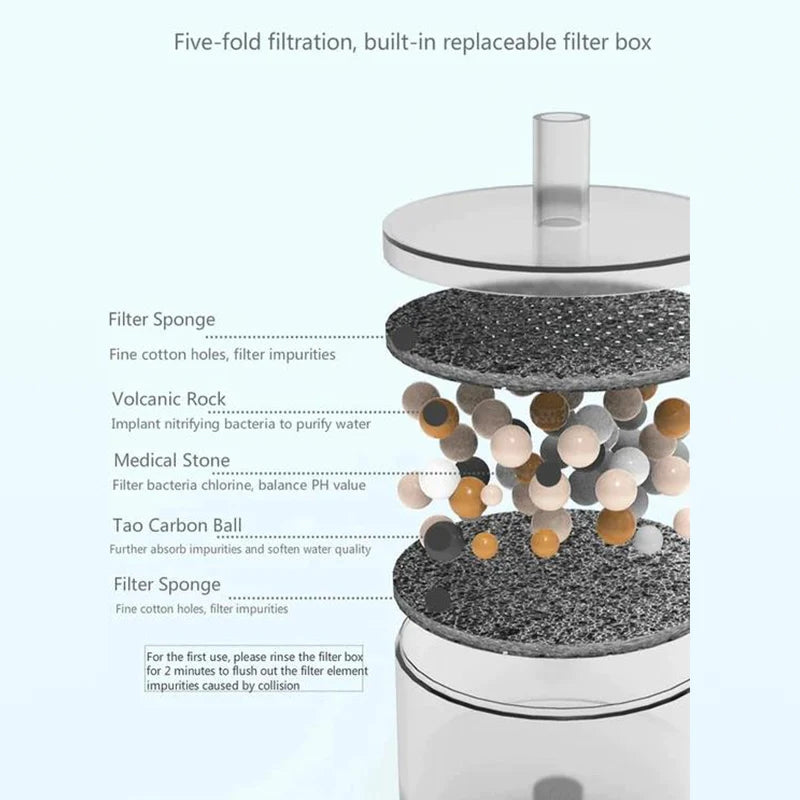 Astronaut Cat Water Fountain
12% off for 2 items. 15% off for 3 items. Valid for storewide.
Automatic Discount at Checkout
Shop with Confidence:
Features: 

Automatic cat water fountain allows cats' need of flowing water!
Safe Ceramic Material: Made of high-quality ceramic material, sturdy, durable, and long service life. Crafted from food-grade ceramic, safe for kitties and puppies.
Reliable Filtration System: We use filter sponge layers to filter impurities, volcanic rocks to purify water, rid the water of unpleasant smells, medical stones to balance PH value, ceramic carbon balls to absorb impurities, soften water quality, and catch any hair that falls in. 
Quiet Water Pump Design: With the designed water pump, our fountain can circulate running water, making the water quality healthy. With the upgrade super quiet pump, you can hardly hear the sound of the water, which will not affect you and your pet.
Large Capacity: 1800 ml large water capacity reduces the need for refilling, great for the pet parent who is always away for a weekend.
Easy to Clean: The whole body is removable and washable, leaving no dirt, keeping the cat drinking fountain sporty and hygienic.
Please note that due to the handcrafted nature of ceramic, there may be slight color variations between batches caused by glaze and firing temperatures.
Design Points:
Cute mushroom-shaped look
Cats like drinking running water
Five-fold Filtration, build-in replaceable filter box
IPX-8 Submersible water pump
Natural Spring
Sleep-level mute--30 Db
Package:
Filter*1
Pump with USB line*1
Water fountain*1
Our Materials:
High-quality Ceramic Body & Fully Ceramic
Power: 1-3W Voltage: DC 5V
Size Instruction:
| Style | Length | Width | Hight | Capacity |
| --- | --- | --- | --- | --- |
| L | 18 | 18 | 15 | 1800ml |
*This data was obtained from manually measuring the product, it may be off by 1-2 inches (2-3cm).
Tips: 
To achieve the ideal filtering effect, it is recommended to replace the filter box once a month. The package does not contain a USB plug.
*Care Instruction:
Please rinse the filter box for 2 minutes to flush out the filter element impurities caused by collision before first use.
To achieve the ideal filtering effect, it is recommended to replace the filter box once a month.
Needs a tube
This is supposed to come with a tube. It used to be for safe in the filter tab but it isn't anymore. Mine didn't come when the tube and I had to flip the sucker upside down and shove it inside the ceramic hole and then stick the filter to it. It really means a piece of tubing to be on the filter and then also in the ceramic hole and that's what's supposed to be making the water come out the way I did it it does still come now and my cat uses it a lot but it is really annoying to put together with water inside of it
Dear Jane,
Thank you for taking the time to review the Astronaut Cat Water Fountain. We're sorry to hear that the tube was missing from your fountain. We apologize for any inconvenience this may have caused.
We take quality control very seriously and will investigate why the tube was missing from your order. Please email us at support@happyandpolly.com with your order number, and we'll do our best to make it right.
We appreciate your feedback and hope that you and your cat continue to enjoy using it.
do not purchase
leaving as 5 stars because they delete any review below 4 stars, but do not buy this water fountain. like other users have said, the pump is not strong enough. if it isn't perfectly placed, no water will flow. it is so hard to get placed correctly. their directions are incorrect (they just say place in the center- this does not work). even when you get it placed perfectly, the water sprays everywhere. i am so upset with this company and how they treat their customers. buy a more affordable fountain. this is a scam.
Awful quality. DO NOT GET THE FOUNTAINS
Their water pump for the large one was either faulty or the water pressure isn't strong enough but they need to fix that issue and give you a bigger water pump. I've put the pump right under the circle and it's not strong enough to push the water through the top. I had to cut up a McDonalds straw to make it somewhat work but I will be requesting a refund. Their other products are good but these water fountains have to be the worst designs. Really disappointed because I was so excited for this one
Hi Antonion, thanks for your feedback. According to your description, we guess that the water dispenser may not be installed correctly or some accessories are missing. We will get in touch with you later to help you solve the problem.
Cat Approved
The Vet suggested we get our kitty a filtered water fountain to encourage her to stay hydrated as she's been forgetting to drink enough water in her old age. Well now I'm proud to say she drinks twice as much water! The gentle noise reminds her to hydrate while adding a calming atmosphere to our apartment. She's more relaxed with it in in our space and so are we. It even makes a louder noise when it needs to be filled up so we don't forget to refill it. Not only that but it's a beautiful addition to our abode! It's so cute and simple to put together! Seeing our elderly girl so happy is such a pleasure. This was definitely worth the buy.