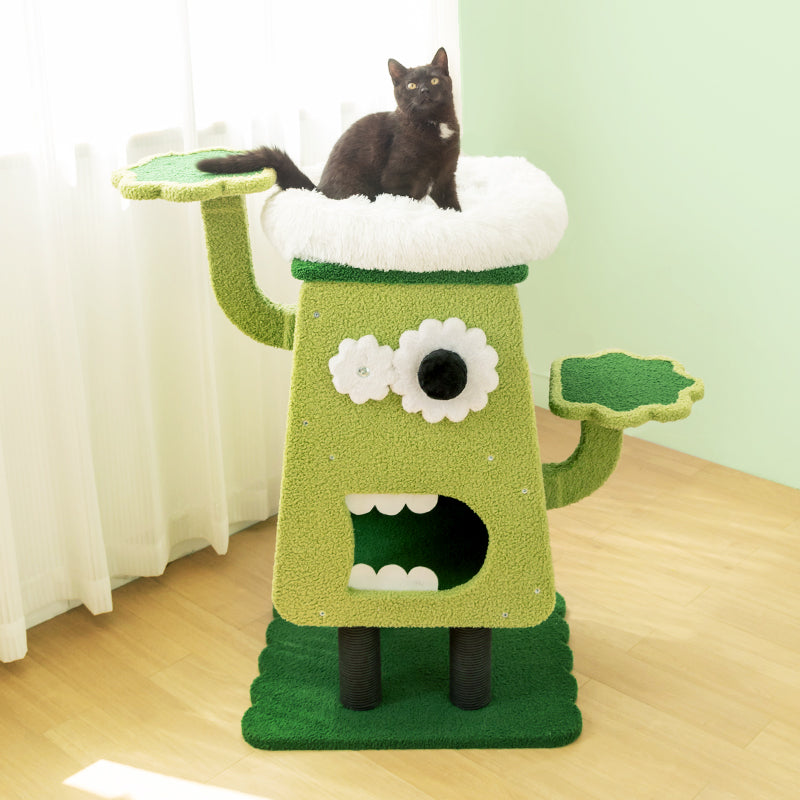 12% off for 2 items. 15% off for 3 items. Valid for storewide.

Receive Before Christmas
Features:

Aren't you curious why cats run suddenly every day? Probably because there is a monster waiter chasing it.
Our cat climbing frame is made of highly qualified harmless timber. The shape is vivid, attracts the cat's attention, and is very healthy for the cat's paws. 
The design is simple, and the installation can be completed very soon, you can easily create a funny cat gym. If your cat is too fat, This cat tree will help him to lose weight.
With a soft plush white bed, enjoys the moment of defeating the monster with your cats.
Our Material:
Environmentally timber and soft plush mat.
Product Measurements:
| Style | Length | Width | Height | Capacity |
| --- | --- | --- | --- | --- |
| Monster Waiter | 58 | 48 | 92 | <20 lbs |
*This data was obtained from manually measuring the product, it may be off by 1-2 INCHES (2-3CM).
Cats love it.
My cats took to it right away. They love little hidey holes and things to scratch on so this is a perfect combo. The 4 stars comes from how much of a pain it is to assemble. There's a video they've shared that specifically points out how easy it is to assemble. No, it's not. The pieces are heavy and need to be lined up perfectly for the holes to match. Very frustrating as a one person job. However, once its together, it's great.
Super fun cat tree
"Love all things funny! Been using this monster cat tree for a while. My cat can't leave it and plays on it every day.
The lower cubby, where my cat often sneaks into, brings to mind the whimsical idea of my pet being gobbled up by a friendly monster. The sisal cat scratching post ensures my cat's scratching needs are well taken care of."