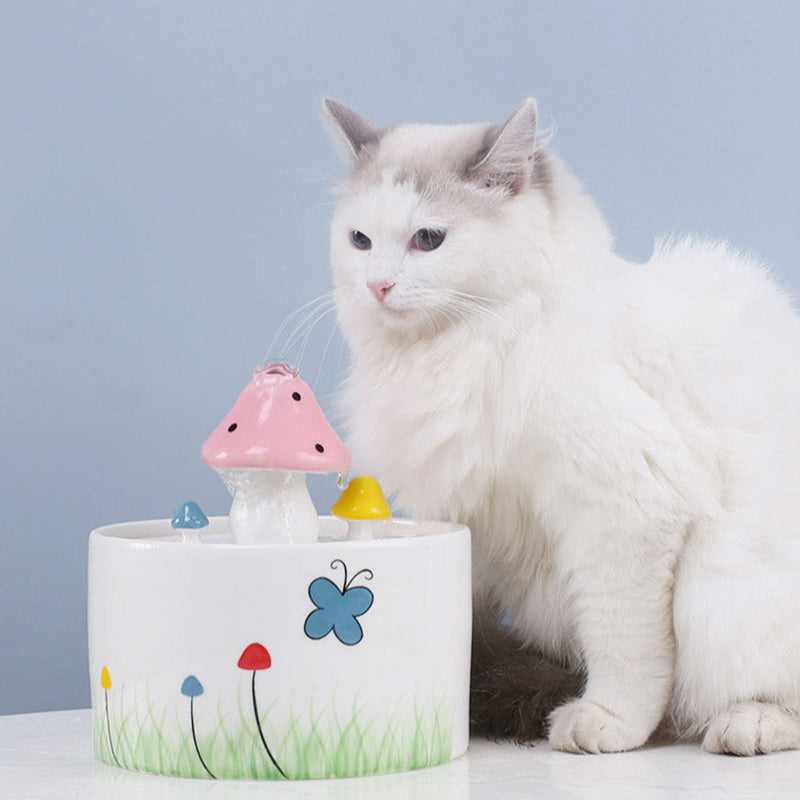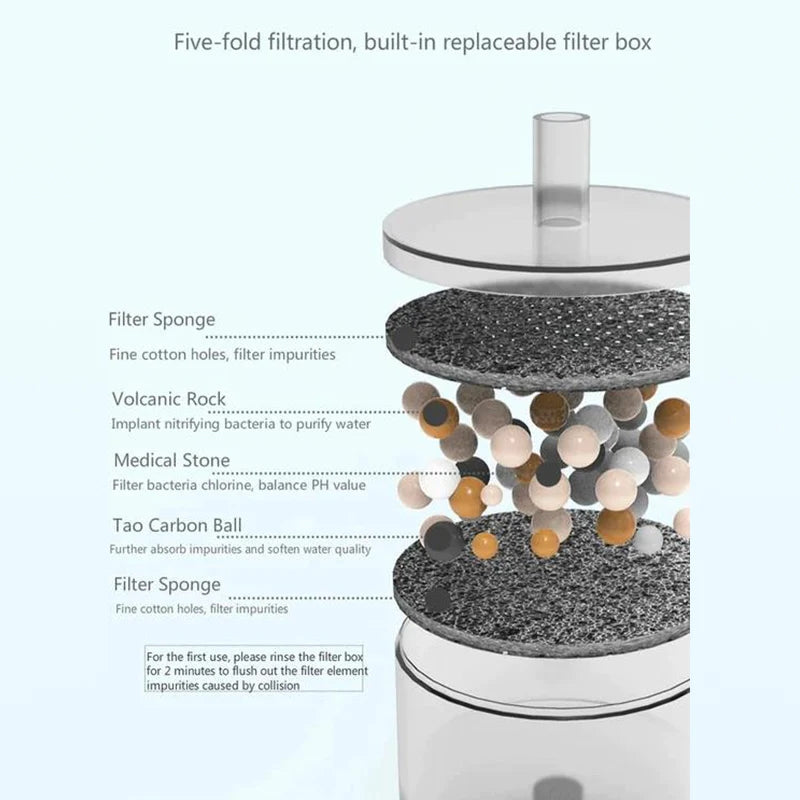 Garden Mushroom Water Fountain
12% off for 2 items. 15% off for 3 items. Valid for storewide.
Shop with Confidence:
Ship From the USA!!!!🤩 Arrive in 2-5 days!!!
Features:
Mushroom Shaped USB Pet Ceramic Automatic Drinking Fountain is a cat water fountain with steady clean filtered water. 
Circulating Water: Automatic filtration system living water cycle. Pet Dispenser 360°cyclic filtration, 24 hours non-intermittent purification, double-layer activated carbon filtration make the circulating water clean, purifying the water quality and removing harmful substances in the water.
Smooth Bottom: Repeatedly polished, without hurting the ground.
High-quality Material: The ceramic pet water dispenser is made of ceramic, which is easy to clean and not easy to accumulate dust. It has a glossy glazed surface, smooth water flow, and its own weight is not easy to be overturned by pets.
Multiple Flow Modes: You can adjust the water flow by adjusting the pump to different modes.
Quiet: Low power consumption, super silent, energy-saving, and environment-friendly. Super Silent, No need to worry about your pet's rest.
Crafted from food-grade material, safe for kitties and puppies.
Please note that due to the handcrafted nature of ceramic, there may be slight color variations between batches caused by glaze and firing temperatures.
Package:
Filter*1
Pump with USB line*1
Water fountain*1
Our Materials
Crafted from a food-grade materia, safe for kitties and puppies.
Product Measurements:
| Style | Length | Width | Height | Capacity |
| --- | --- | --- | --- | --- |
| S | 14 | 14 | 17 | 1000ml |
| L | 18 | 18 | 17 | 1500ml |
*This data was obtained from manually measuring the product, it may be off by 1-2 INCH (2-3CM).
Tips: 
The package does not contain a USB plug.
Care Instruction

*Note: When using for the first time, please rinse the filter box for 2 minutes to flush out the filter element impurities caused by collision.
Clean the Drinking Fountain Every 7 days.
Its already in use. Its really good. The design is cute. The water circulates automatically. My cat likes it. If you have a fur baby at home, you can get one.
Highly recommended!!!
Its a cute drinking fountain. Its perfect for my cats. My cats wont be afraid to see small mushrooms. After observing for a while, they start to drink, drinking and playing. The ceramics are very heavy, dont worry about knocking them over !!!
Its really super quiet, and my baby likes it very much. Before, My cat didnt like to drink water very much. Now my cat can drink a lot of water. Ceramic ones are not afraid of cats falling over.
Cats love it!
The only reason I am giving it a 4 is the lack of instructions with it. I actually had to come here to look at the pictures but otherwise my kittens love it! And it's a lot easier to clean than the previous water fountain I had purchased.