Features:
RAISED & SLANTED DESIGN: Designed like a fat cat butt shape features little tail and claws to create an attractive appearance. Tilted angle and big opening keep food piled nicely or automatically fall to the center, greatly reduce the risk of backflow and provide cat the best feeding posture. Rounded corners offer cat secure eating and licking whilst sleek surface allows for easy cleaning without hurting hands. Wider base helps rest on any smooth surface without tipping over for good stability
MULTIFUNCTIONAL: It is not only a cat bowl with right height to put cat mouth at a better position in relation to its stomach, allows cat to eat in a more natural neck position, makes sit and eat quite comfortably, brings whisker relief and helps swallow more easily, alleviate cat's neck burden and lowers pressure of joints, further promotes the health of the cat's digestive system, but a decoration to blend seamlessly into your living space with its exquisite patterns and perfect curvature
WIDELY APPLICATION: Great for felines of all ages, cats with flat face, kitten or kitty suffering from arthritis, neck strain and cervical spondylosis, especially better for elder cats with bad digestion. Suitable for wet food, dry food and water. Thoughtful gifts for your families, best friends, colleagues and any cat lovers
Product Measurements:
| Style | Length | Width | Height |
| --- | --- | --- | --- |
| Yellow-Brown Cat | 17.5 | 20 | 15.5 |
| Ginger Cat | 17.5 | 20 | 15.5 |
*This data was obtained from manually measuring the product, it may be off by 1-2 INCH (2-3CM).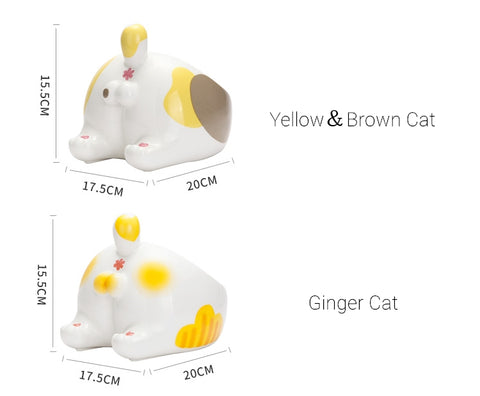 Why does it have balls?
Neutered cats are healthier cats.
Why does it have balls?
Neutered cats are healthier cats.