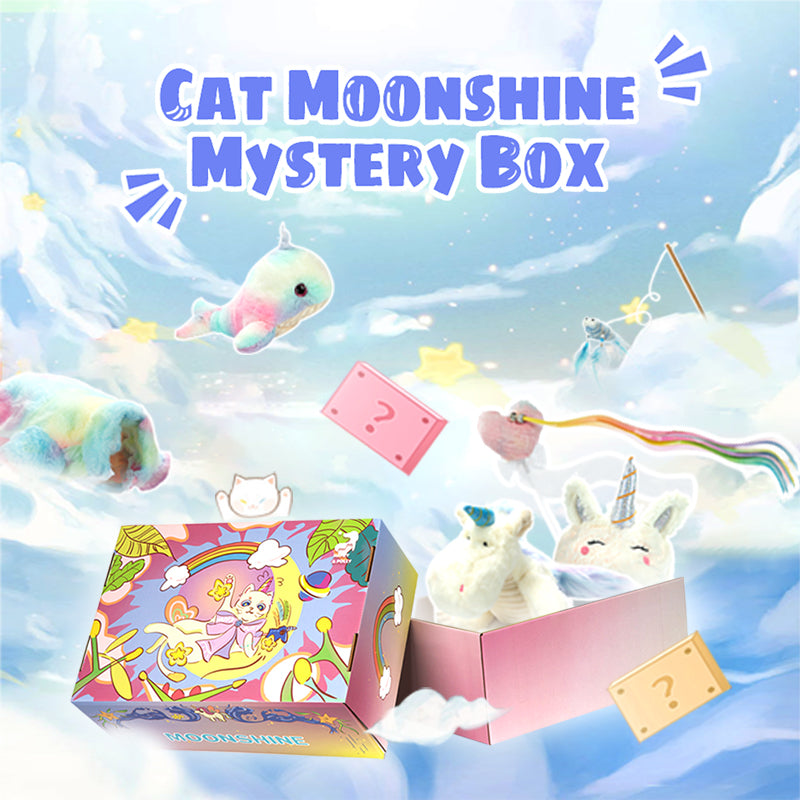 7 in 1 Moonshine Mystery Box
12% off for 2 items. 15% off for 3 items. Valid for storewide.
Features:
What's in a Moonshine Mystery Box?
It is a subscription box just for cats, shipping fun toys and style clothes. Each item is thoughtfully selected or designed to win over the most finicky feline.
All of the contains have a unified theme. We will also launch different themes and styles, if you like our products, you can continue to pay attention to our box.
14.6*10*6 inches.
Could hold a15 pounds cat.
Not only does it come with huge scratchboard with 14*10 inches, but the box could also be spliced ​​into a house where cats hide toys.
With simple assembly, the cat can get a small villa with 14*10*8 inches where it can play.
Product Measurements:
| Style | Length | Width | Height |
| --- | --- | --- | --- |
| one size | 36 | 25 | 15 |
*This data was obtained from manually measuring the product, it may be off by 1-2 INCH (2-3CM).
Installation steps:
1. Cut along the dotted line.
2. Buckle along the crease.
Excellent customer service
I had an issue with my order and was very pleased with the service I received from Cecily. She made sure the problem was quickly corrected. My cat could not be more happy with her wands, she is in love with them!
It would be great if I could make a wish
It is the charm for the mystery box.
I get the surprise and just soso
Nice!!
It is definitely one of my favorite products. It is cute, practical, concise and does not occupy space. The cat likes it very much. Its clothes fit very well. The cat Teaser is also very effective. It stays in the box all day and refuses to come out. It's really enjoyable!
Great!
I've never seen such an interesting product. It really subverts my world. There are so many good things in the small box. I really can't stop. My cat likes it very much and refuses to come out of the box. Highly recommended!!