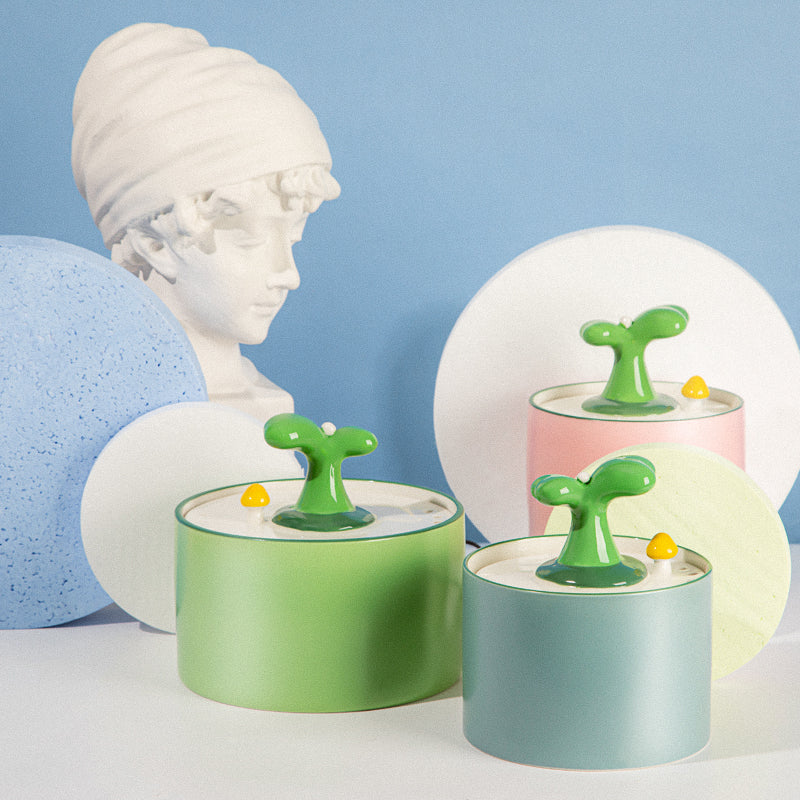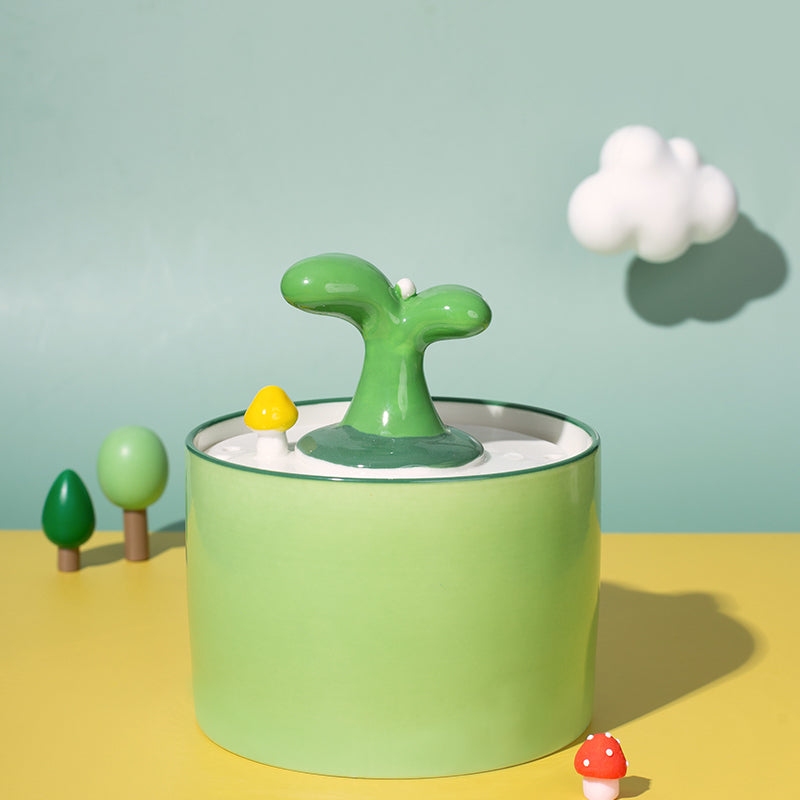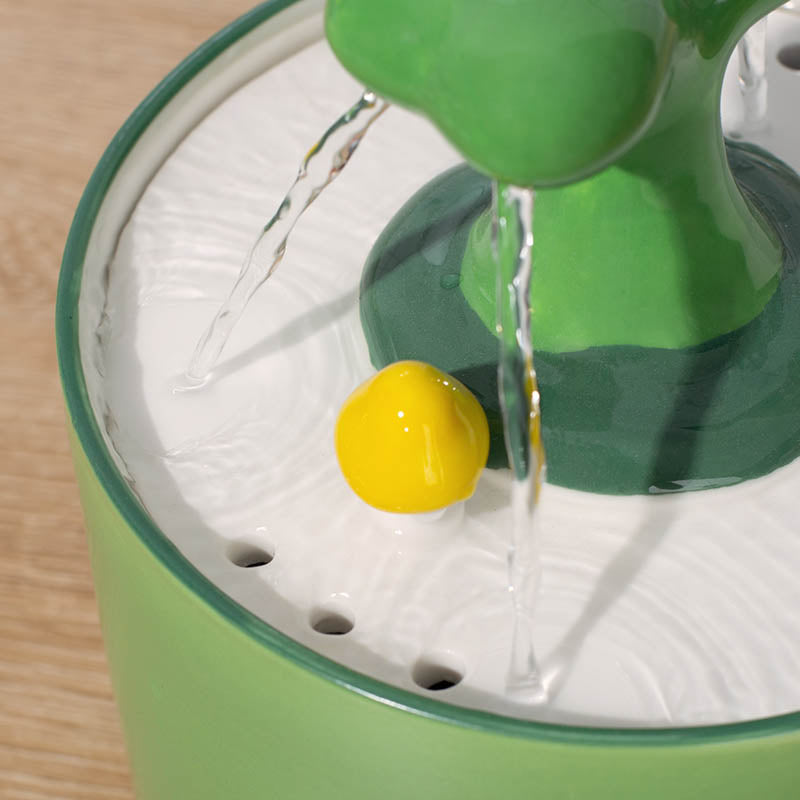 Spring Series Cat Water Fountain
Shop with Confidence:
Features:

Automatic cat water fountain allows cats' need of flowing water!
Double filtration system:

Flower water fountain 

use filter sponge layers to filter impurities, volcanic rocks to purify water, rid the water of unpleasant smells, medical stones to balance PH value, ceramic carbon balls to absorb impurities, soften water quality, and catch any hair that falls in. You can expect a well-hydrated cat, healthy and free of kidney problems and urinary tract infections!
Environmentally friendly materials: Crafted from food-grade ceramic, safe for kitties and puppies.
Super silent: the sound of the water dispenser keeps below 40 decibels when running, and will not disturb you and your pet.
Smart power-off: Will be automatically powered off when there's no water inside, preventing dry burning.
Please note that due to the handcrafted nature of ceramic, there may be slight color variations between batches caused by glaze and firing temperatures.
Package:
Filter*1
Pump with USB line*1
Water fountain*1
Our Materials:
High-quality Ceramic Body & Fully Ceramic
Product Measurements:
| Style | Length | Width | Height |
| --- | --- | --- | --- |
| S | 14 | 14 | 16 |
| L | 18 | 18 | 16 |
*This data was obtained from manually measuring the product, it may be off by 1-2 INCH (2-3CM).
Tips: 
The package does not contain a USB plug.
*Care Instruction:
Clean the Drinking Fountain Every 7 days.

When using for the first time

, please rinse the filter box for 2 minutes to flush out the filter element impurities caused by collision.
Won't Turn On Correctly
I really wanted to like this one! I think something is wrong with the pump/motor. When I plug it in, it doesn't start unless the entire thing is out of the water, then has to be set into the water. It makes a loud grinding sound 24/7 no matter how much water is in the bowl. I've changed filters, cleaned everything, adjusted the water pressure, and when I contacted customer support to get a replacement pump, they told me to do all the solutions I already tried.
Hello,
Thank you for your feedback regarding the Spring Series Cat Water Fountain. We apologize for any inconvenience you experienced.
We have sent you an email to the address. Kindly check your inbox and reply at your earliest convenience. We would like to gather more details about your specific concerns and work towards a resolution that meets your satisfaction.
If you have any more questions or need further assistance, please don't hesitate to contact our customer support team.
cute n easy 2 clean
so happy i found this cus it's really easy to clean and it's cute. just wish i had bought the large size bc i have unusually large cats lol their heads are big but i have to fill this thing up almost daily bc they drink so much they love it. also the ceramic is good bc all other fountains are plastic usually and it was giving my cats chin acne.
Exactly what we hoped
We have used the same kind of fountain the last couple years, on of the metal ones and it rusted + got crusty, and I couldn't make it feel clean no matter how I scrubbed. This fountain is the perfect size, it's adorable, and so easily stays clean. My cat love it and his constant fresh tasting water. Highly recommend !
Love it!!
My cats love this fountain and it's SO easy to clean unlike others I've tried! It's expensive but worth it so far, I've had it for a couple months.