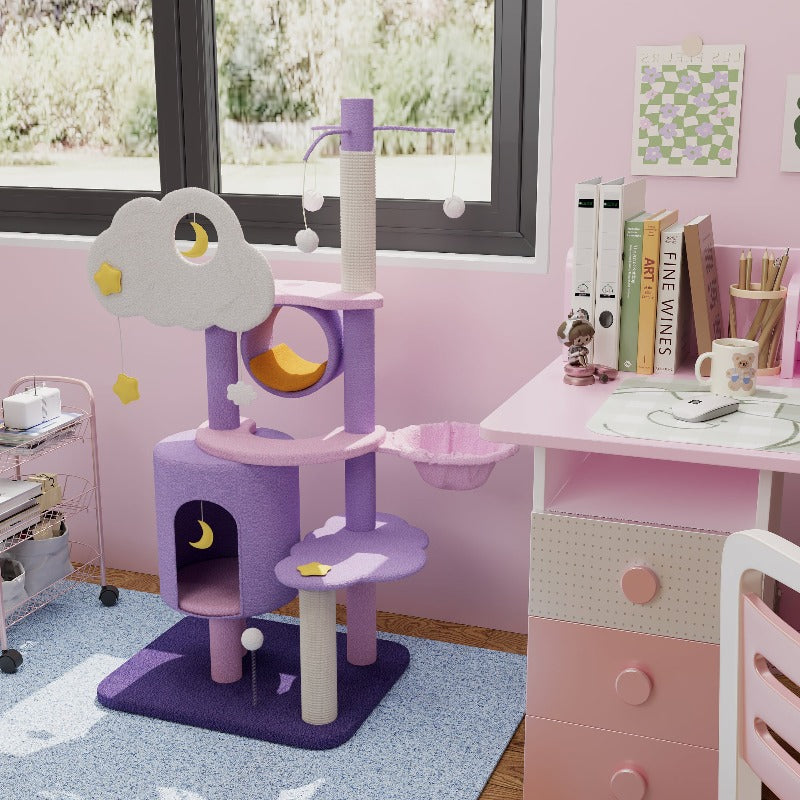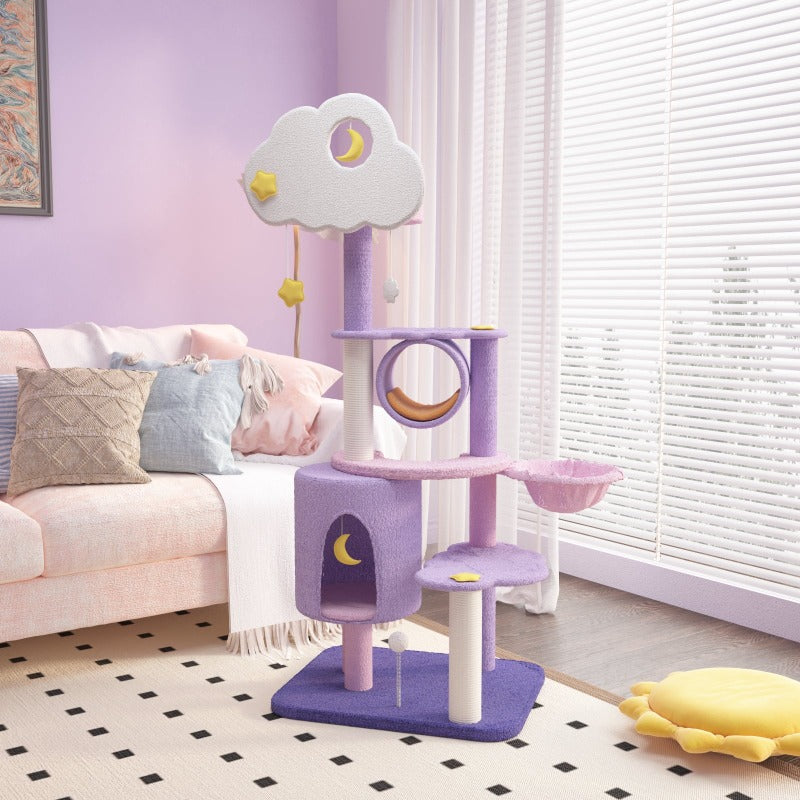 12% off for 2 items. 15% off for 3 items. Valid for storewide.

Receive Before Christmas
Highly recommend this cat climbing toy to anyone who wants a pretty and ethereal cat tree!
 Features:
Unique theme: The night sky theme makes cat an astronomy enthusiast.
Structure designed for cats: Hammocks and high seats allow your kitten to enjoy different pleasures while jumping up and down. 
High playability: The hanging moon and star attract the cat's attention and start hunting games.
Easy to install: Detailed installation tutorial and assembly instruction video allows you easily make an amazing playground for your cats.
Our Material:
Made of highly qualified harmless timber and wrapped by hand with a natural sisal rope.
5mm-thick sisal, high-density winding.
Composite cashmere loop, soft and comfortable.
Cute pendant sprouts fun.
This item is ONLY available in the USA / UK / AU! Other Areas will need to pay extra international shipping fees.
Product Measurements:
| Style | Length | Width | Height | Capacity |
| --- | --- | --- | --- | --- |
| B | 45.7 | 38.1 | 106.68 | < 8 lbs |
| D | 58.42 | 45.72 | 149.86 | < 12 lbs |
| E | 60 | 47.75 | 139.7 | < 15 lbs |
| F | 60 | 47.75 | 165 | < 15 lbs |
*This data was obtained from manually measuring the product, it may be off by 1-2inches (2-3cm).
I've had this tree for less than 2-3 weeks and the top piece is already super wobbly. My cats aren't overweight, so it cannot be due to their size. But even so, all other cat trees I've purchased have lasted waaay longer. I got this on sale, but I don't think I'll ever buy another one from this company. Which sucks, because they're so damn cute. I'm rather heartbroken, honestly. I had such high hopes. 😩
Super Cute but Doesn't Last!
I love this cat tree, it only lasted about 10 months tho :( Our cat is around 10 lbs and one day the top part with the cloud where he sits fell off. It was not fixable and I was disappointed with the support team's help. It cost too much to order one replacement piece.
Three Happy Campers
My little chicken nuggets love it! The hanging bits have gotten chewed off so maybe use sturdier material. Other than that, they play and sleep on it for hours.