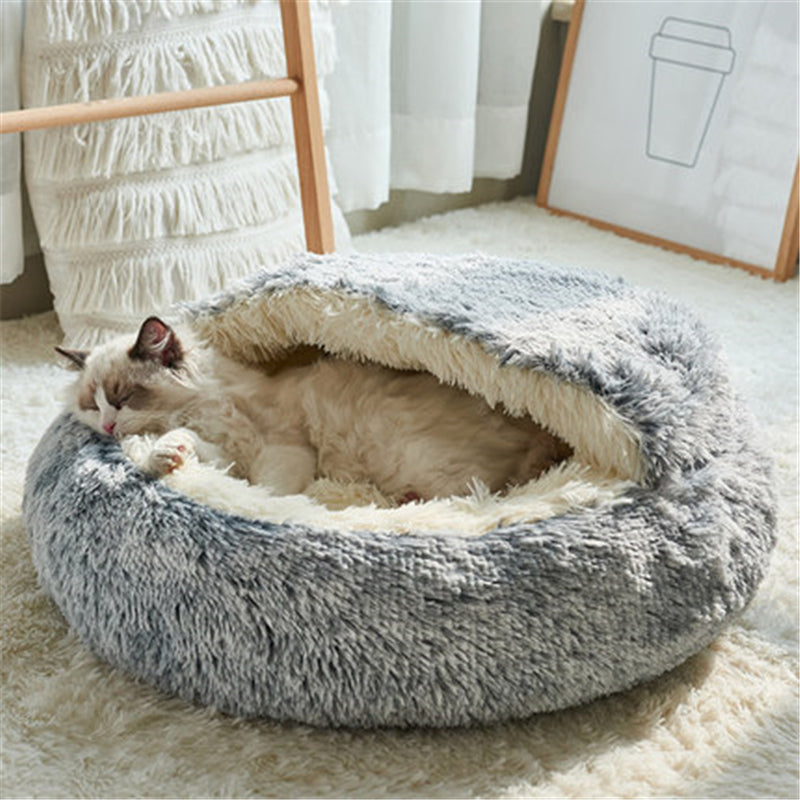 12% off for 2 items. 15% off for 3 items. Valid for storewide.
Automatic Discount at Checkout
Features:

This Marshmallow Pet Plush Nest offers your dogs and cats a good sleeping time in the cold winter. We use super soft and smooth material to care for your pets' skin, giving your pet the perfect place to snooze on with a maximum sense of security.
Raised edge has a positive effect on your pet's nervous system, calming their sensory behaviors, and providing comfort.
Luxurious faux fur mimics mom cat, triggers safety and reduces vulnerability, relieves psychological pressure. 
Raised edge supports your pet's neck and spine, premium soft cotton reduces muscle and joint pain.
Anti-bacterial faux fur and durable nylon combine to create a comfortable and hygienic place to sleep.
Our Materials:
Warm PP Cotton/Plush, soft and skin-friendly

Anti-skid for the safety of pets

Machine washable and dryer friendly to eliminate pet odors and fur quickly and easily. 
Product Measurements:
| Style | Length | Width | Height |
| --- | --- | --- | --- |
| one size | 48 | 48 | 10 |
*This data was obtained from manually measuring the product, it may be off by 1-2inches (2-3cm).
Care Instruction:
Wash by hand or machine, gently wash without rubbing with neutral detergent in the water below 30℃.
Please dry immediately after washing to prevent the fur from matting.
Biscuit Maker
The base isn't very sturdy so if your cat lays toward the back of the bed inside, it will tilt backward. It took a while for my cat to warm up to the bed. She doesn't really use it to sleep (I've only seen her sleeping in it a handful of times). Instead, it is mainly used to make biscuits.
Cat approved
I received it promptly, for international shipping, popped it out if the box, gave it a good shake and waited. Misti ignored it completely. I think it looks comfortable and cozy. I waited some more. Put cat nip in it. Nope still ignored. Just about to give up, then . . .
3 cats love their 3 beds!
3 cats love their 3 beds!
I think I need 2 or it's going to be war!
My cats love this bed SO MUCH, I think the only way to keep the peace is likely going to be by buying a second one! I have 2 medium-large sized domestic short hairs (one is 13lbs and the other is 18lbs) and they fit perfectly. Just not together! When one is inside, the other sleeps next to it, waiting his turn. (See pics!) Sometimes, one of them doesn't totally get that he can get under the hood, but they still both love this bed. It's in constant use!
The only thing worth pointing out is that if you're expecting the bottom or edges to be sturdy (like the beds with sponge walls that have a cushion inside) you'll probably be disappointed. I don't think that's a detriment AT ALL. Just wanted to point it out. It was more pillowy than I expected. (I was expecting more sturdiness at the base.) But again, that's not saying it's a problem at all. I think the fluffy softness that the babies just sink into is why they love it so much!