52.8oz/1.5L Ghost Drinking Fountain
12% off for 2 items. 15% off for 3 items. Valid for storewide.
Automatic Discount at Checkout
Shop with Confidence:
Introducing the Ghost Water Fountain: Quench Your Cat's Thirst with Elegance and Functionality
Are you ready to take your cat's hydration game to the next level while adding a touch of Gothic charm to your home? Look no further than the Ghost Water Fountain - a unique and stylish solution to ensure your feline friend stays healthy and happy.
Features:

Gothic Aesthetic, Miniature Ghostly Tombstone Design: Delve into the world of the macabre with our Ghost Water Fountain. Featuring a captivating Gothic design, this water fountain resembles a miniature ghostly tombstone, adding an element of intrigue and style to your home decor. It's perfect for those who appreciate the dark and mysterious side of life.

Premium Ceramic Build, Prioritizing Your Cat's Well-Being: Your cat's health is our priority. Crafted from high-quality ceramic, our water fountain is not only visually striking but also an excellent choice for your cat's well-being. Ceramic prevents the growth of harmful bacteria, ensuring that your furry friend drinks from a clean source every time.
Automatic Water Dispenser - Keeps Water Flowing: No more stagnant water bowls! The Ghost Water Fountain is equipped with an automatic water dispenser, ensuring a continuous flow of fresh water. Your cat will be delighted with the bubbling brook-like experience, encouraging them to stay hydrated all day long.

Reliable Filtration System: Our advanced filtration system guarantees clean and pure water, free from impurities and unpleasant odors. You can rest easy knowing your cat is sipping from a pristine source.

Anti-Dry Burn Design - Safety First: We understand that accidents can happen. To prevent any issues, our Ghost Water Fountain is designed with an anti-dry burn mechanism. 

Whisper-Quiet Operation: Is your cat a light sleeper? No worries! The Ghost Water Fountain operates with near-silent technology, ensuring that your furry friend remains undisturbed while enjoying a tranquil drinking experience.
Please note that due to the handcrafted nature of ceramic, there may be slight color variations between batches caused by glaze and firing temperatures.
Design Points:
Gothic style-a miniature ghostly tombstone design.
Cats like drinking running water
Five-fold Filtration, build-in replaceable filter box
IPX-8 Submersible water pump
Sleep-level mute--40 Db
Package:
Water fountain*1
Pump with USB line*1
Filter*1
Sucker*1
Power: 1-3W Voltage: DC 5V
Size Instruction:
| SIZE | Length | Width | Hight |
| --- | --- | --- | --- |
| 1500ml | 18 | 18 | 15 |
*This data was obtained from manually measuring the product, it may be off by 1-2 inches (2-3cm).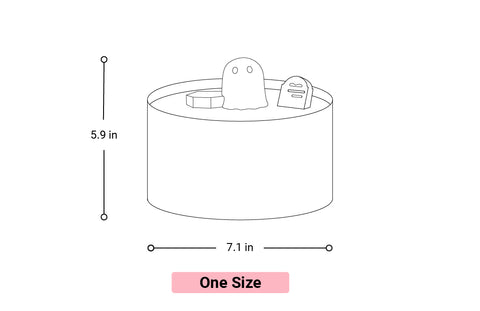 Tips: 
The package does not contain a USB plug.
*Care Instruction:
Please rinse the filter box for 2 minutes to flush out the filter element impurities caused by collision before first use.
To achieve the ideal filtering effect, it is recommended to replace the filter box once a month.
Super cute! The top doesn't sit on super well with the filter but it works!
Need some help
This is so cute but it didn't come with any directions? I need some help setting it up