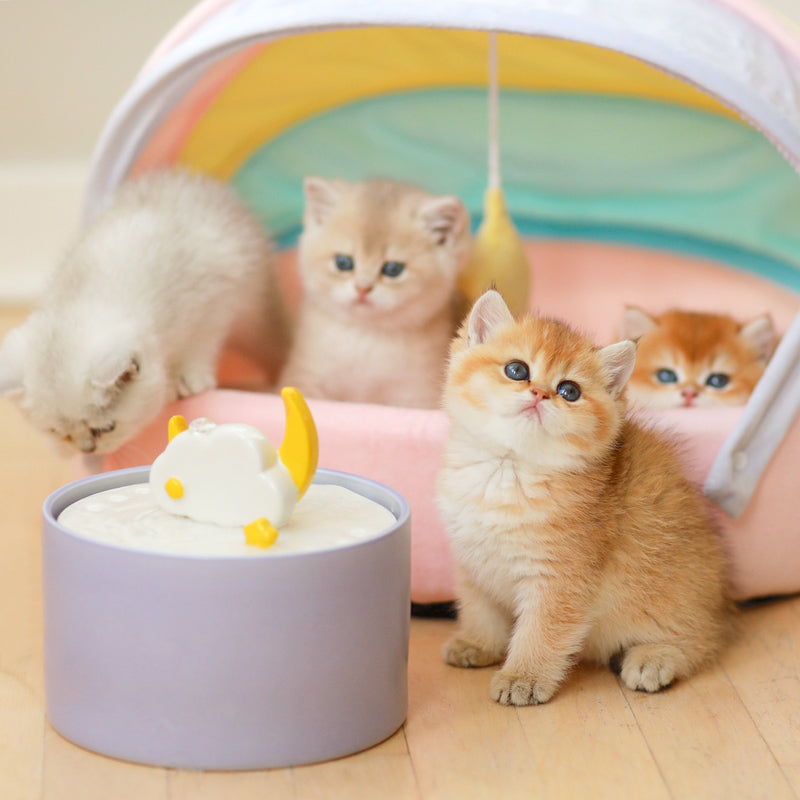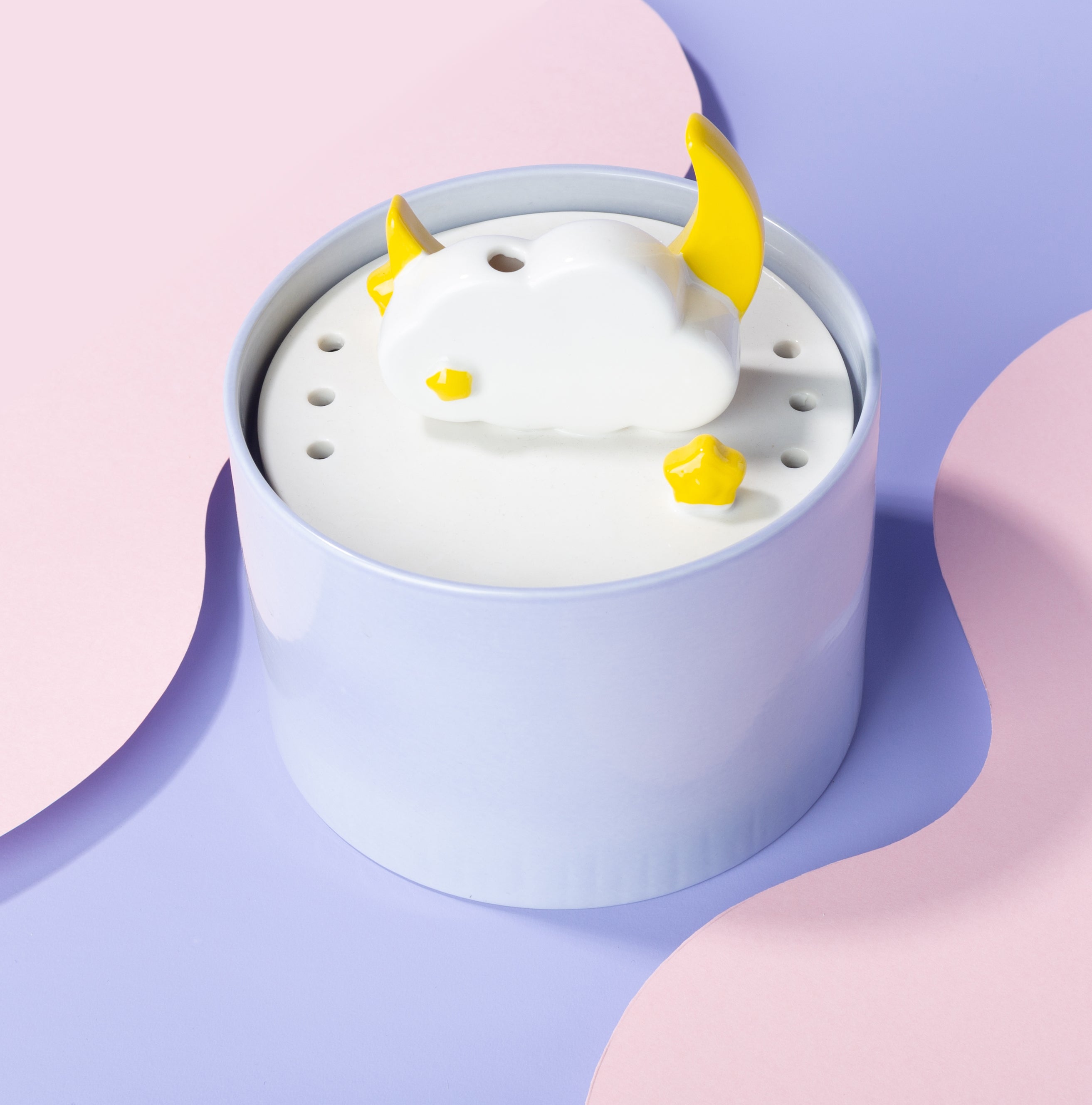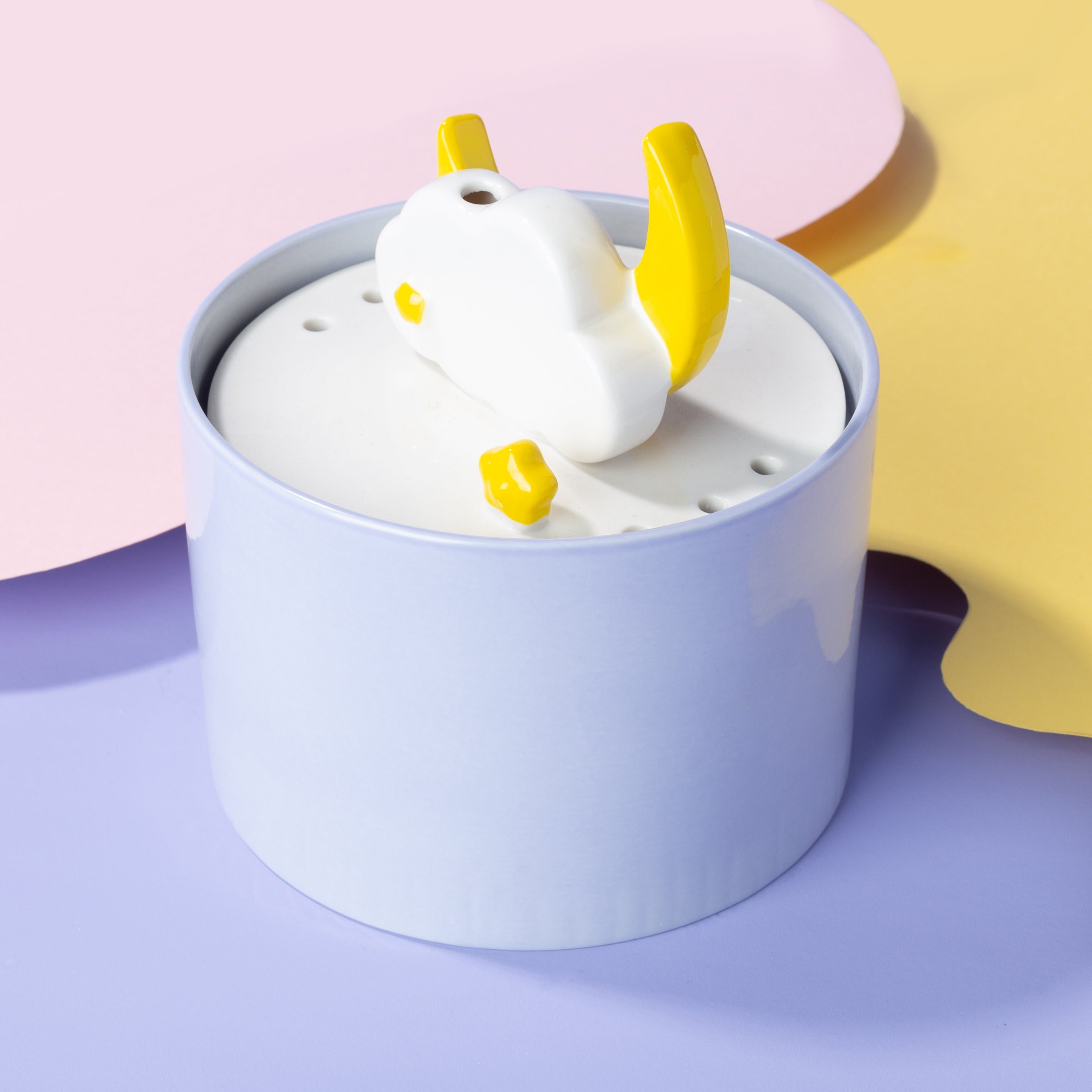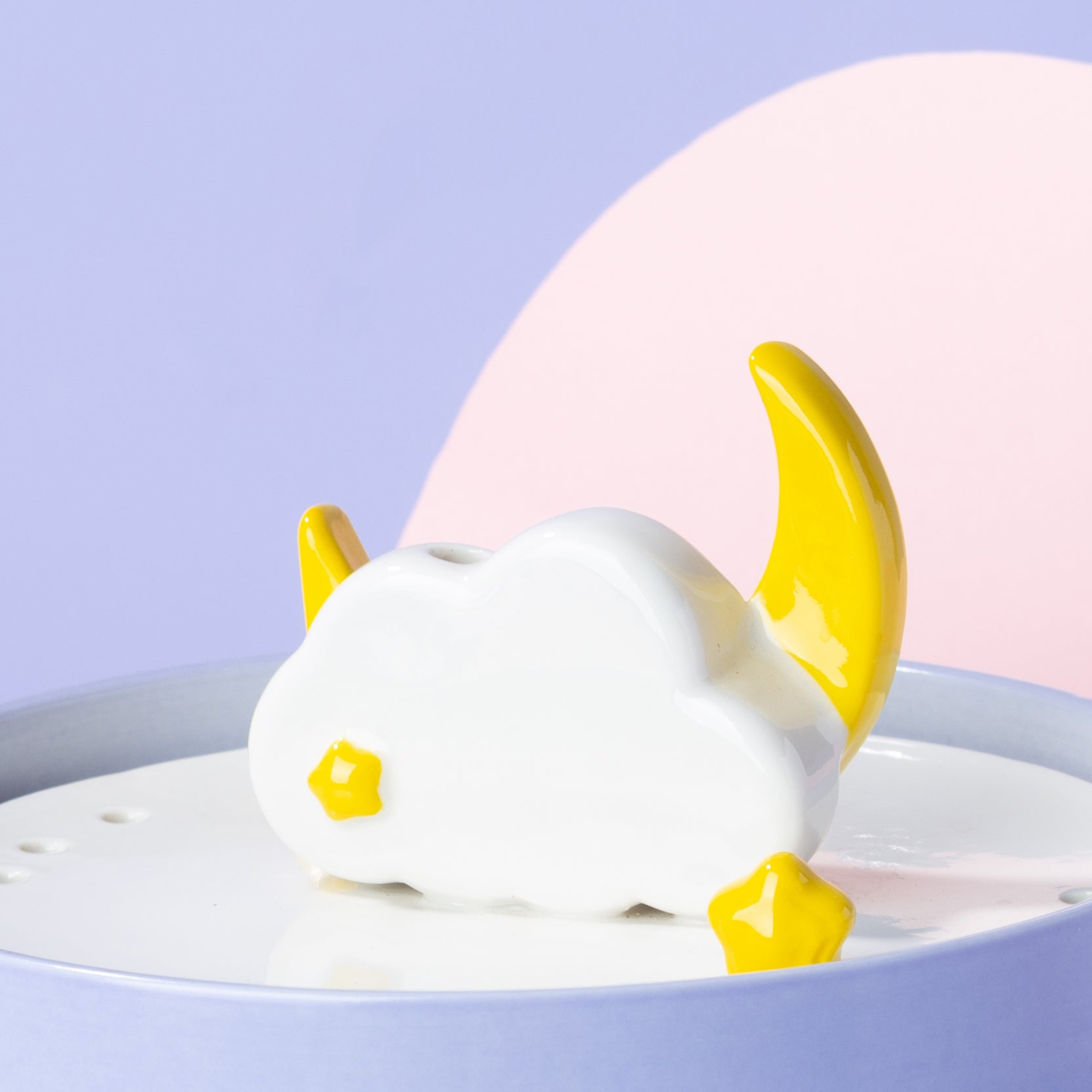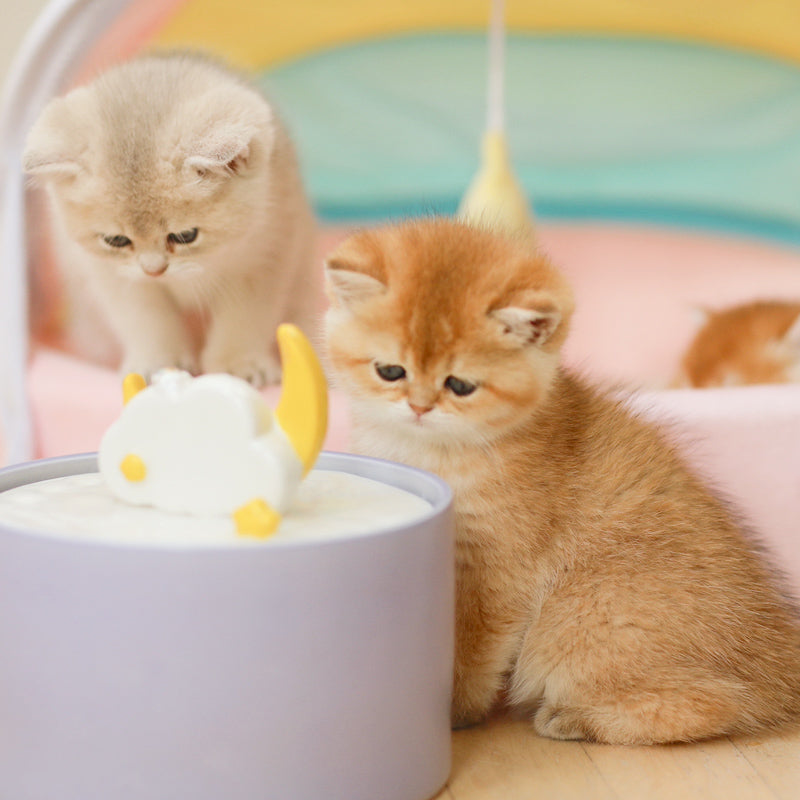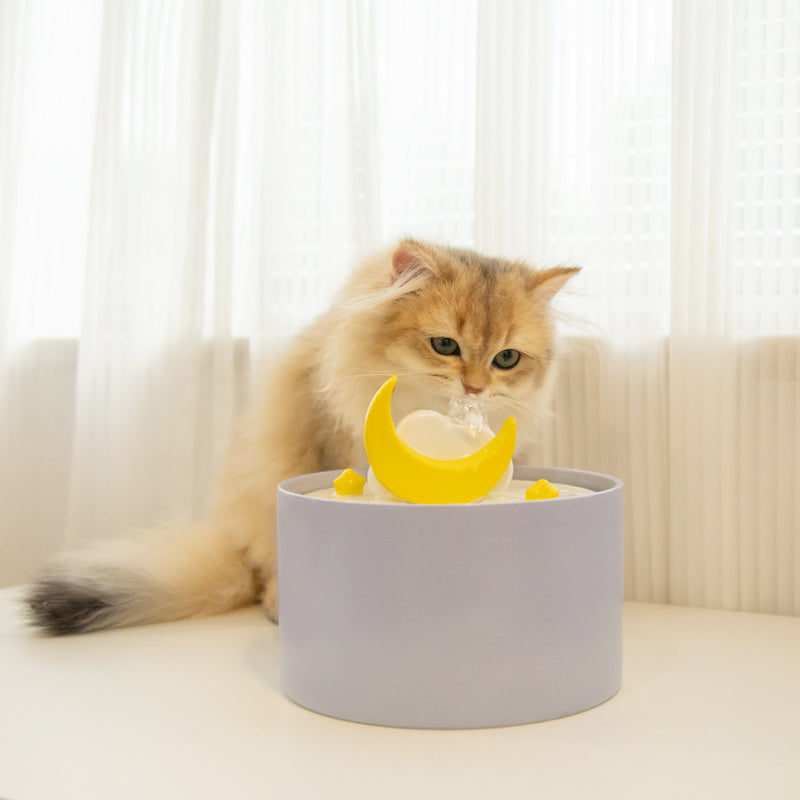 Moonlight Cat Water Fountain
12% off for 2 items. 15% off for 3 items. Valid for storewide.

Receive Before Christmas
Shop with Confidence:
Ship From the USA!!!!🤩 Arrive in 2-5 days!!!
Features:

Automatic cat water fountain allows cats' need of flowing water!
Safe Ceramic Material: Made of high-quality ceramic material, sturdy, durable, and long service life. Crafted from food-grade ceramic, safe for kitties and puppies.
Reliable Filtration System: We use filter sponge layers to filter impurities, volcanic rocks to purify water, rid the water of unpleasant smells, medical stones to balance PH value, ceramic carbon balls to absorb impurities, soften water quality, and catch any hair that falls in. 
Quiet Water Pump Design: With the designed water pump, our fountain can circulate running water, making the water quality healthy. With the upgrade super quiet pump, you can hardly hear the sound of the water, which will not affect you and your pet.
Large Litre Water Capacity: Large water capacity reduces the need for refilling, great for the pet parent who is always away for a weekend.
Easy to Clean: The whole body is removable and washable, leaving no dirt, keeping the cat drinking fountain sporty and hygienic.
Please note that due to the handcrafted nature of ceramic, there may be slight color variations between batches caused by glaze and firing temperatures.
Package:
Filter*1
Pump with USB line*1
Water fountain*1
Design Points:
Cute moonlight-shaped look
Cats like drinking running water
Five-fold Filtration, build-in replaceable filter box
Layer by layer filtration
Freshwater
Sleep-level mute--40 Db
Our Materials:
High-quality Ceramic Body & Fully Ceramic.
Specification:
Power: 1-3W 
Voltage: DC 5V
Product Measurements:
| Style | Length | Width | Height | Capacity |
| --- | --- | --- | --- | --- |
| S | 14 | 14 | 19 | 1000ml |
| L | 18 | 18 | 19 | 1500ml |
*This data was obtained from manually measuring the product, it may be off by 1-2 INCH (2-3CM).
Tips: 
The package does not contain a USB plug.
*Care Instruction:
Please rinse the filter box for 2 minutes to flush out the filter element impurities caused by collision before first use.
To achieve the ideal filtering effect, it is recommended to replace the filter box once a month.
Keeps Breaking
I really like this fountain and so does my cat but the motor keeps dying. I've had this fountain for less than one year and it's broken twice. I don't know what I'm doing wrong I replace the filter monthly and clean the fountain weekly.
IT'S PERFECT!!!
I literally squealed I was so happy when I opened this in the mail today!!! The quality is FANTASTIC!!! I did not expect how nice this would be, and on top of that it's so pretty and adorable! The best part is that all four of my kitties love it! As soon as I set it up all of them were playing at the fountain and drinking. Having everything match with the theme of their room is a huge bonus!!!
Perfect!!
Had issues with it sputtering out water & went tp youtibe to find the setup video tp adjust the water flow cause the ones linked were not it lmao but now it's great!! No more sputtering & no more wet floor! I'll link the video for the Moonlight Fountain below, the other fountains have videos as well on the page!
Moonlight Cat Fountain: https://youtu.be/KQFldiVGrQ8?feature=shared
Very cute
I love how it looks, the flow of the water is nice and not too loud, but when I have it running it either leaks or sweats too much and it gets my desk wet. I'm just going to get a little plate to go underneath.