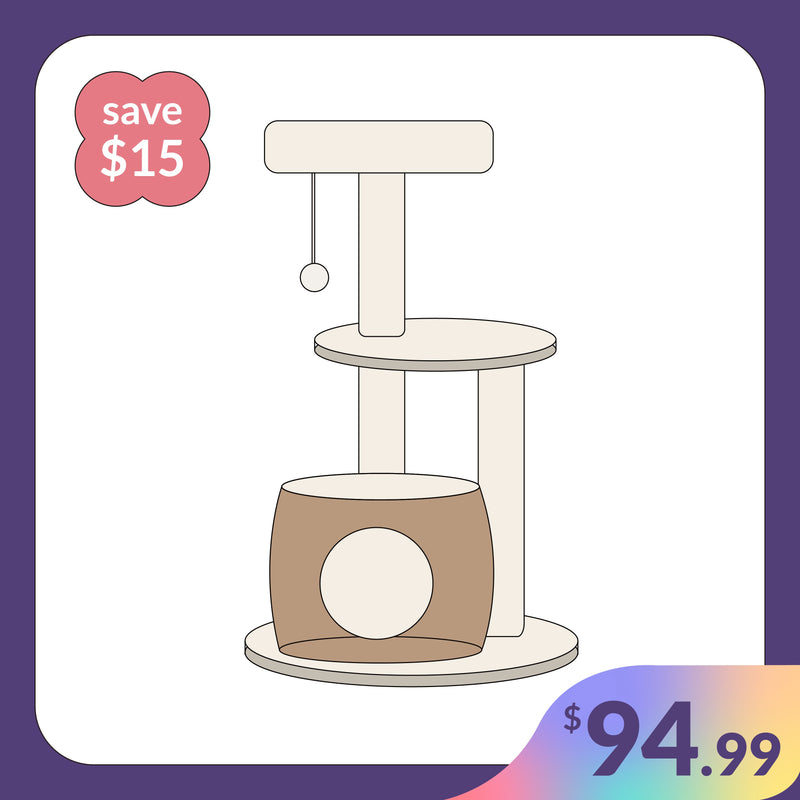 12% off for 2 items. 15% off for 3 items. Valid for storewide.

Receive Before Christmas
Elevate Feline Comfort with Our Plush and Versatile Cat Climbing Tree.

 Features:
🐾 Soft Elegance: The design effortlessly fuses softness and versatility, making it the perfect fit for various interior aesthetics.
🧶 Luxe Material Fusion: Luxuriate in the touch of plush rabbit fur and the timeless charm of rattan weaving, creating an atmosphere of warmth and sophistication.
🐱 Cuddly Cat Nook: The woven rattan cat nook at the base is a cozy retreat designed to accommodate cats up to 15 lbs, ensuring they rest in the lap of comfort.
🎉 Interactive Play: Playtime takes a delightful turn with the addition of whimsical hanging toys, captivating your cat's attention and turning their play moments into cherished memories.
Our Material:
High-qualified harmless timber and wrapped by hand with plush & natural sisal rope.
 Shipping Info:
ONLY AVAILABLE IN THE USA!
Product Measurements:
| Style | Length | Width | Height | Capacity |
| --- | --- | --- | --- | --- |
| one-size | 52 | 40 | 84 | < 13 lbs |
*This data was obtained by manually measuring the product, it may be off by 1-2 inches (2-3cm).
Such a cute cat tree! My kitty loves it too!
Purfect!!!
My cat loves this. Fits in any room and the color is great!
Great little tree
I have 3 cats of my own, and usually a foster cat/kitten hanging around too. Everyone loves it. Easy to assemble. Super cute as well.