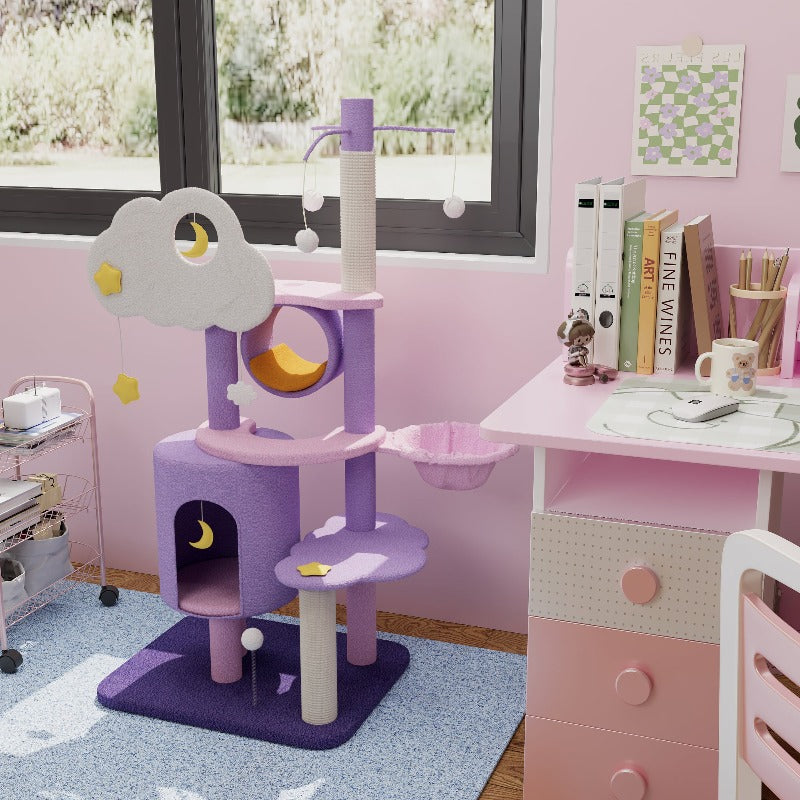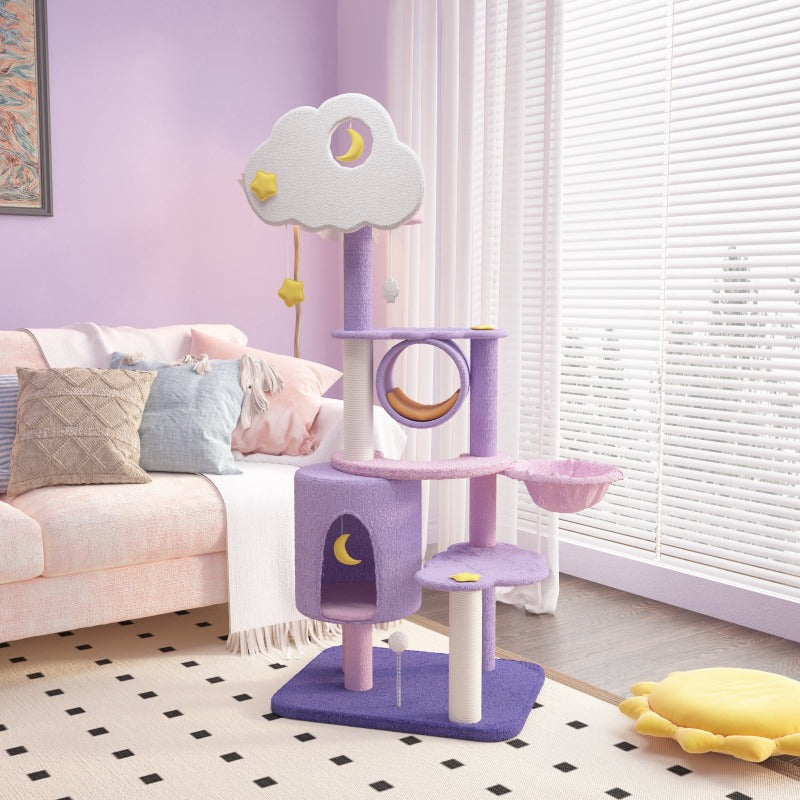 Highly recommend this cat climbing toy to anyone who wants a pretty and ethereal cat tree!
 Features:
Unique theme: The night sky theme makes cat an astronomy enthusiast.
Structure designed for cats: Hammocks and high seats allow your kitten to enjoy different pleasures while jumping up and down. 
High playability: The hanging moon and star attract the cat's attention and start hunting games.
Easy to install: Detailed installation tutorial and assembly instruction video allows you easily make an amazing playground for your cats.
Our Material:
Made of highly qualified harmless timber and wrapped by hand with a natural sisal rope.
5mm-thick sisal, high-density winding.
Composite cashmere loop, soft and comfortable.
Cute pendant sprouts fun.
This item is ONLY available in the USA / UK / AU! Other Areas will need to pay extra international shipping fees.
Product Measurements:
| Style | Length | Width | Height | Capacity |
| --- | --- | --- | --- | --- |
| B | 45.7 | 38.1 | 106.68 | < 8 lbs |
| D | 58.42 | 45.72 | 149.86 | < 12 lbs |
| E | 60 | 47.75 | 139.7 | < 15 lbs |
| F | 60 | 47.75 | 165 | < 15 lbs |
*This data was obtained from manually measuring the product, it may be off by 1-2inches (2-3cm).
Both my kitten and cat love it!
I was a little nervous spending so much money on something that might turn into a decoration. My 6 mo kitten and 9yo cat both love it though!!! The cat prefers the hideaway bed with the dangling star. My kitten loves the very top. He plays with the balls on the spring, the hole in the cloud, and the dangling moon. They both sleep on it as well. It was a massive sucess
Cutest tree ever hands down!!!
This kitty tree set me in motion for the entire theme of the kitty room in my house! It's too adorable not to love it. My kitties also have heavily loved their tree (I think I got this about 8 months ago). That being said do be warned, if you have multiple cats that it's not built to handle it for long. It's sadly falling apart (especially the poles). But honesty I love it so much I would still buy it again!!
Model D
This is a super cute cat tree. If you are expecting a super large tree, this isn't it. It is so cute though and my cats ranging 7-14lbs all love it and fit in it comfortably.
Cute but bad quality
I had this tree for less then a year and my cats absolutely loved it but the top platform completely collapsed and fell off. The fabric is also really poor quality and rips quickly. I love that this is cute but the quality isn't there for the price. Extremely disappointed. Plus if I try to post this as 2 or 1 star it never posts which is fishy.