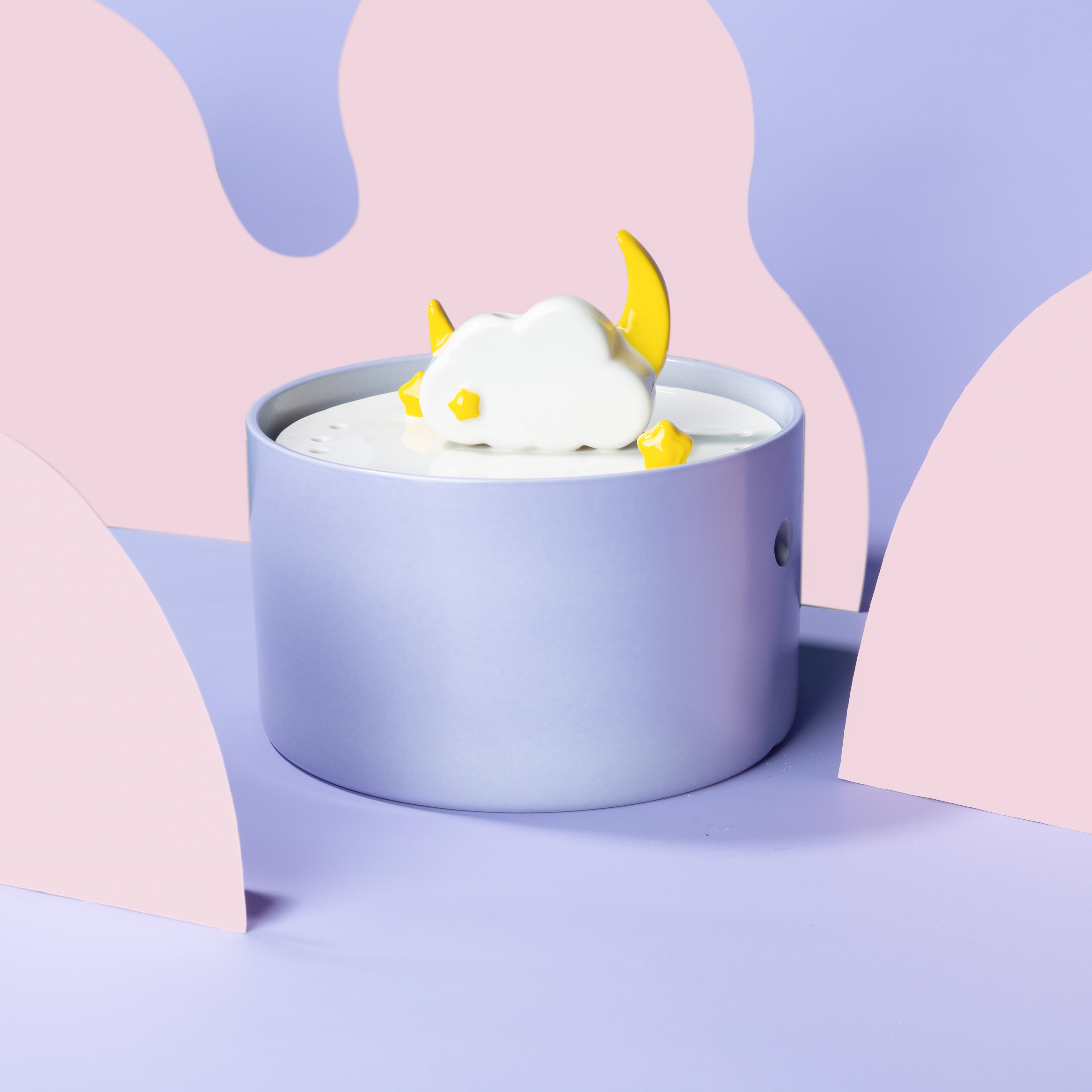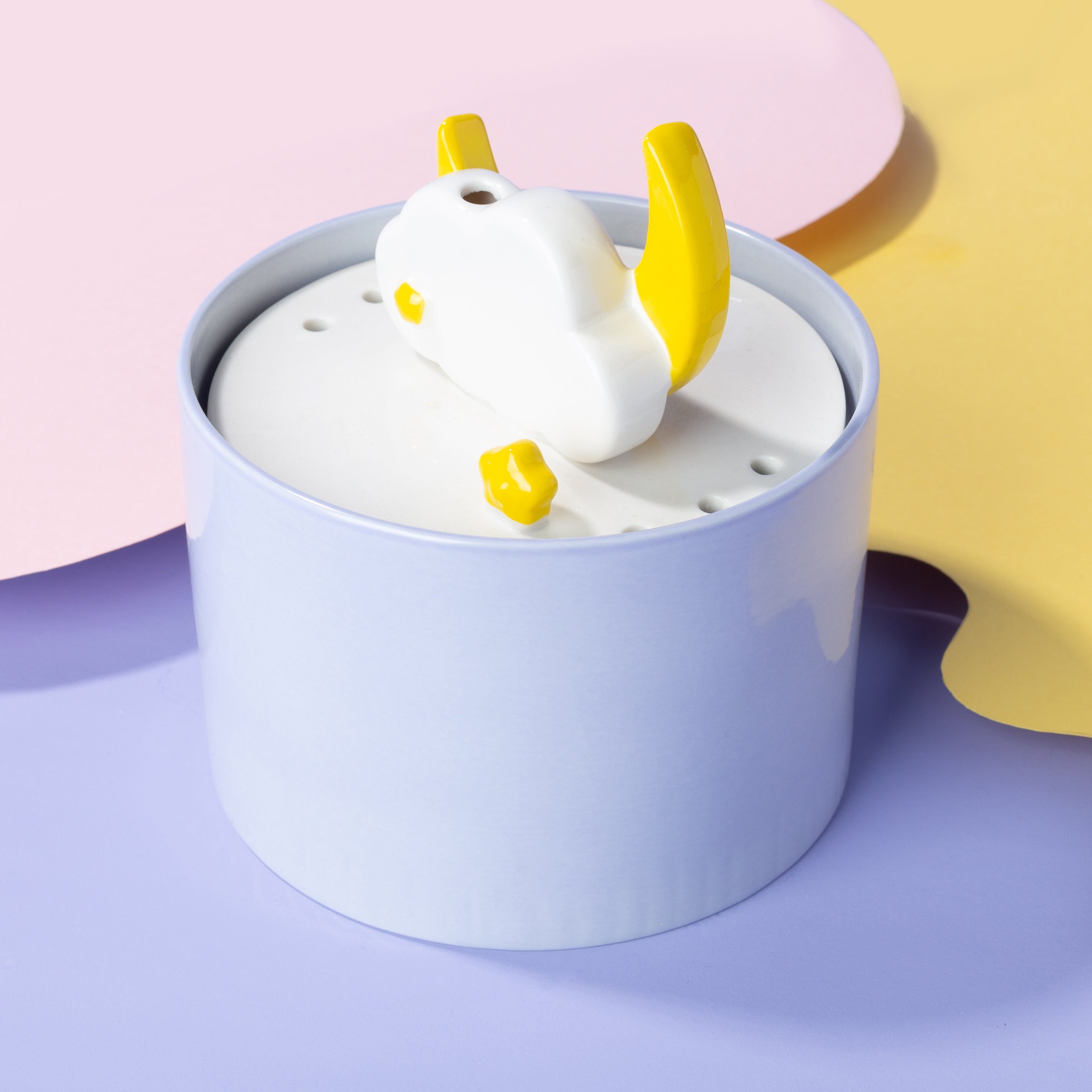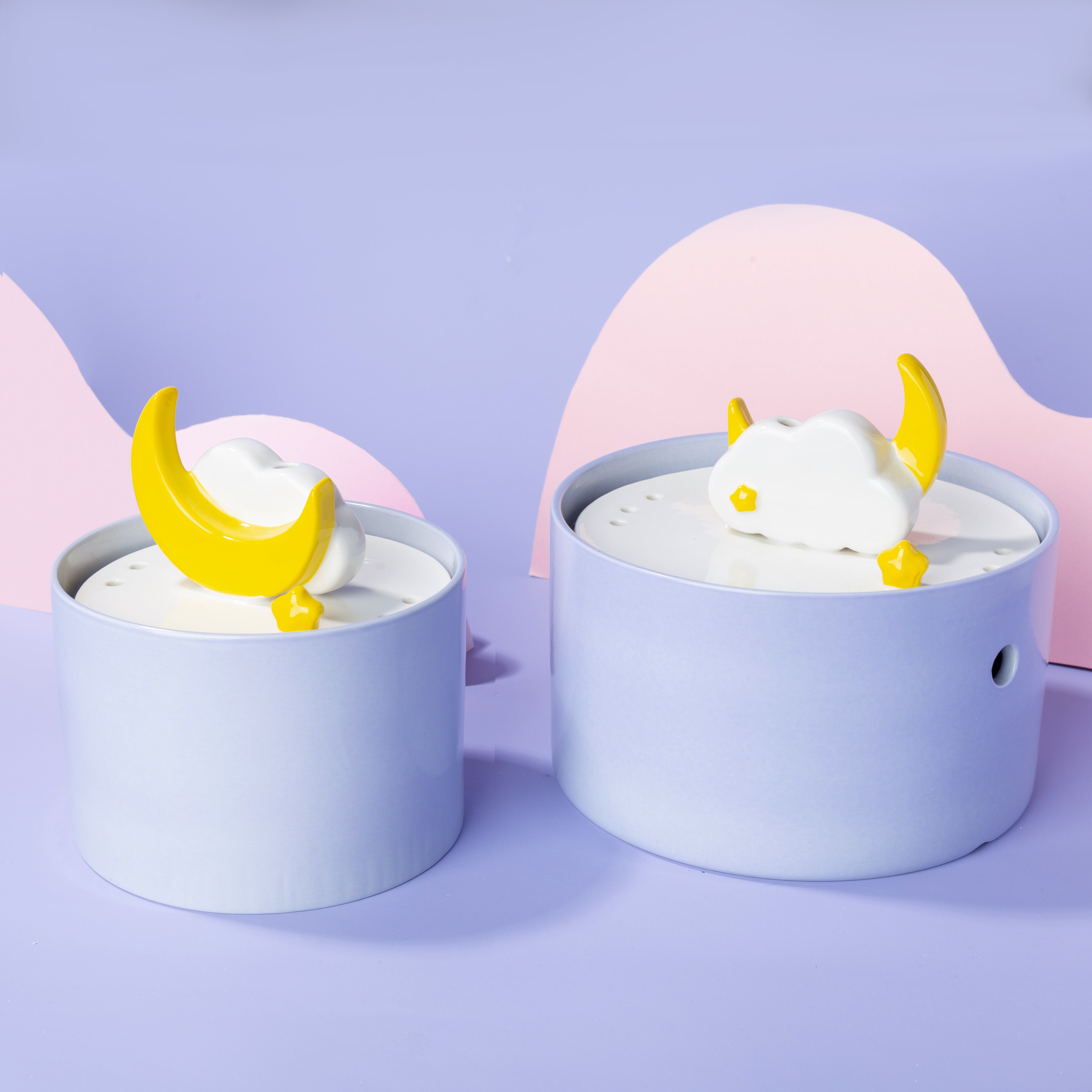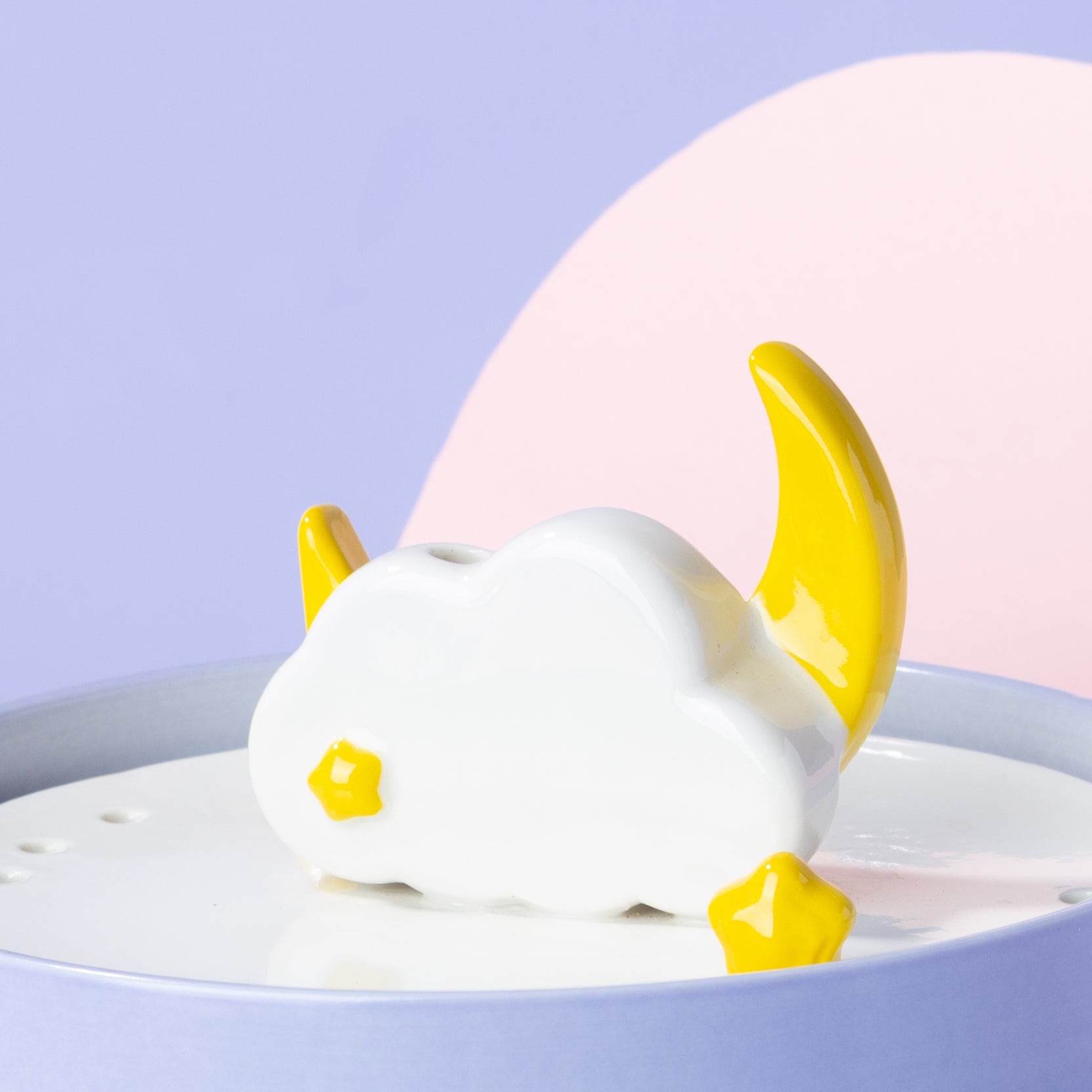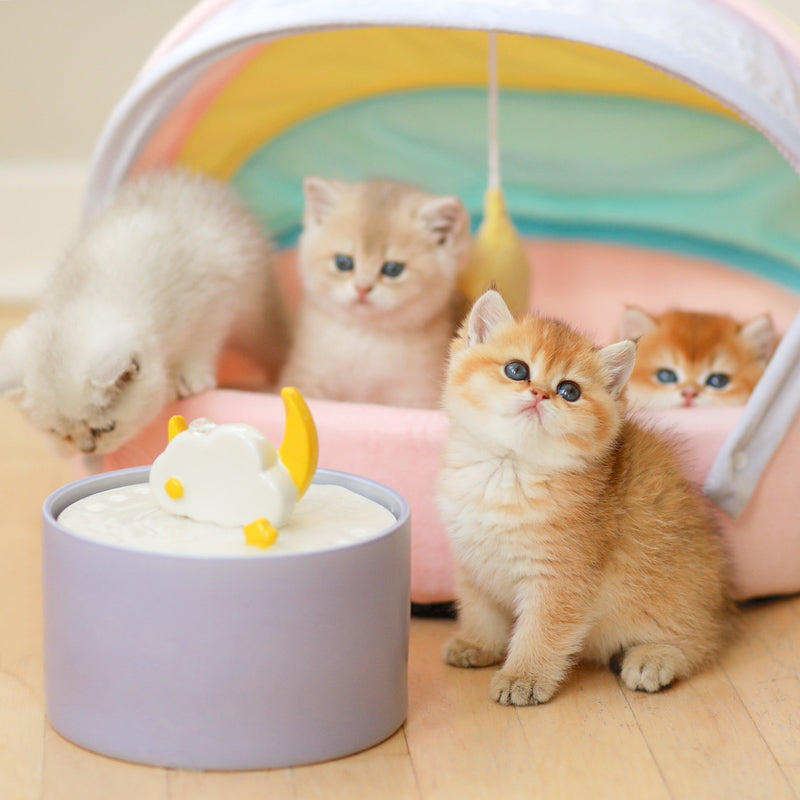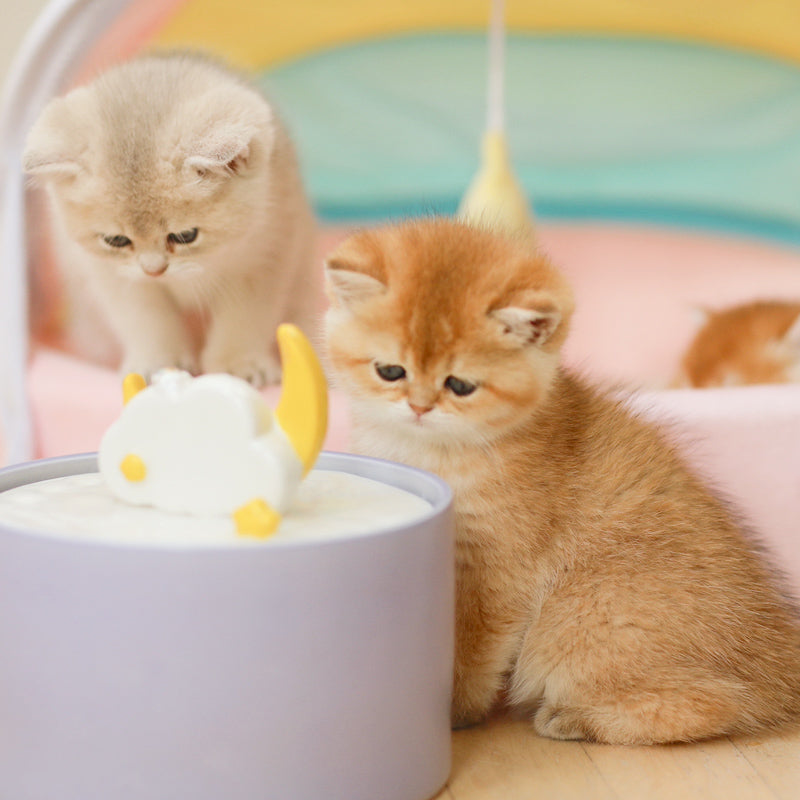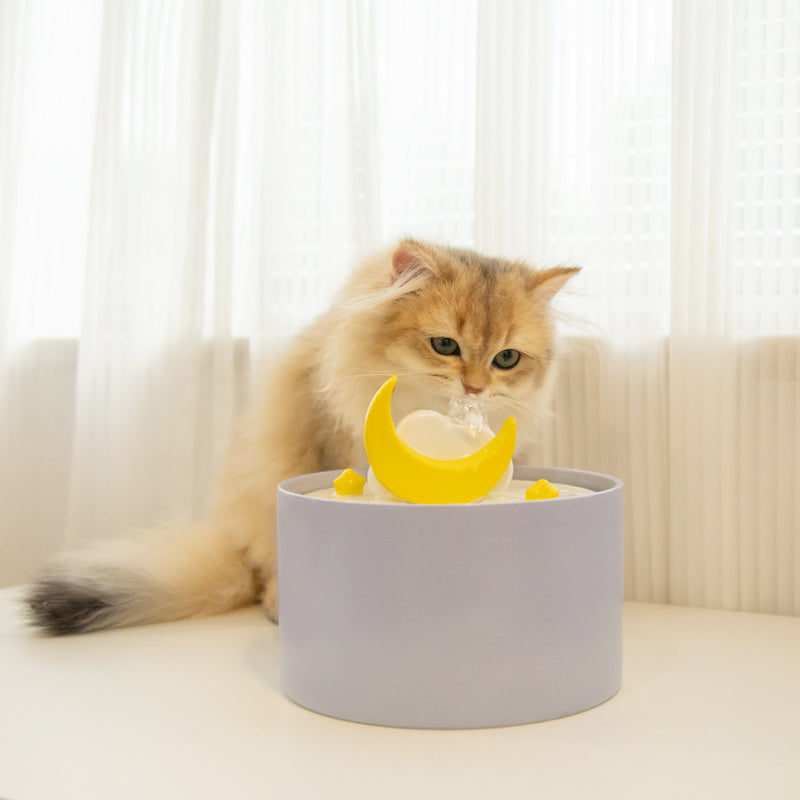 Moonlight Cat Water Fountain
Shop with Confidence:
Ship From the USA!!!!🤩 Arrive in 2-5 days!!!
Features:

Automatic cat water fountain allows cats' need of flowing water!
Safe Ceramic Material: Made of high-quality ceramic material, sturdy, durable, and long service life. Crafted from food-grade ceramic, safe for kitties and puppies.
Reliable Filtration System: We use filter sponge layers to filter impurities, volcanic rocks to purify water, rid the water of unpleasant smells, medical stones to balance PH value, ceramic carbon balls to absorb impurities, soften water quality, and catch any hair that falls in. 
Quiet Water Pump Design: With the designed water pump, our fountain can circulate running water, making the water quality healthy. With the upgrade super quiet pump, you can hardly hear the sound of the water, which will not affect you and your pet.
Large Litre Water Capacity: Large water capacity reduces the need for refilling, great for the pet parent who is always away for a weekend.
Easy to Clean: The whole body is removable and washable, leaving no dirt, keeping the cat drinking fountain sporty and hygienic.
Please note that due to the handcrafted nature of ceramic, there may be slight color variations between batches caused by glaze and firing temperatures.
Package:
Filter*1
Pump with USB line*1
Water fountain*1
Design Points:
Cute moonlight-shaped look
Cats like drinking running water
Five-fold Filtration, build-in replaceable filter box
Layer by layer filtration
Freshwater
Sleep-level mute--40 Db
Our Materials:
High-quality Ceramic Body & Fully Ceramic.
Specification:
Power: 1-3W 
Voltage: DC 5V
Product Measurements:
| Style | Length | Width | Height | Capacity |
| --- | --- | --- | --- | --- |
| S | 14 | 14 | 19 | 1000ml |
| L | 18 | 18 | 19 | 1500ml |
*This data was obtained from manually measuring the product, it may be off by 1-2 INCH (2-3CM).
Tips: 
The package does not contain a USB plug.
*Care Instruction:
Please rinse the filter box for 2 minutes to flush out the filter element impurities caused by collision before first use.
To achieve the ideal filtering effect, it is recommended to replace the filter box once a month.
Perfect!!
Had issues with it sputtering out water & went tp youtibe to find the setup video tp adjust the water flow cause the ones linked were not it lmao but now it's great!! No more sputtering & no more wet floor! I'll link the video for the Moonlight Fountain below, the other fountains have videos as well on the page!
Moonlight Cat Fountain: https://youtu.be/KQFldiVGrQ8?feature=shared
Disappointing
I bought this water fountain because it was cute and I thought my cat would love it… it is cute and it is cute, but it doesn't work well. It spills everywhere and I constantly have to put a towel under it, change the towel, refill the water, etc. it's easier to let my cat drink from the sink.
Hello,
Thank you for taking the time to provide feedback on your experience with the Moonlight Cat Water Fountain. We apologize for any inconvenience you have encountered.
We have sent you an email with further instructions. Kindly check your inbox and reply at your earliest convenience so that we can assist you further.
Regarding the water flow issue, we recommend checking the installation of the water fountain and adjusting the water flow(starting from 0:50) using the following instructional video: https://www.youtube.com/watch?v=vJrBudXyMDk
If you have followed the instructions in the video and the problem persists, please do not hesitate to reach out to us again. To assist us in better understanding the issue you experienced, we kindly request that you provide us with videos or photos showcasing the problem.
We appreciate your patience and cooperation in resolving this matter.
Great! But...
The fountain is so cute and quiet when it's full of water. However, the dish that sits on top is too high. It causes the water to splash out of the fountain when it's running. At first I thought it wasn't going to be an issue, but soon the water fountain was empty with a huge puddle underneath it. I put a towel under, towel was soaked through within 2 days. It's really odd. I try to keep the fountain half full so it doesn't splash, but then the motor makes a weird noise. I wish it wouldn't splash.
Hello,
Thank you for sharing your feedback about the Moonlight Cat Water Fountain. We're sorry to hear about the issue you experienced with the fountain.
We have sent you an email to address the concerns you raised. Please check your inbox and reply at your earliest convenience so that we can assist you further.
In the meantime, we recommend trying to adjust the water flow. You can find a helpful video tutorial on adjusting the water flow at this link: https://www.youtube.com/watch?v=59rgkerunEc. It may help alleviate the splashing issue you mentioned.
If the problem persists, we kindly request that you send us videos of the fountain while it is in operation. This will allow us to better understand the problem and provide appropriate solutions. We'll get back to you within 24 hours once got your email.
Very cute
I love how it looks, the flow of the water is nice and not too loud, but when I have it running it either leaks or sweats too much and it gets my desk wet. I'm just going to get a little plate to go underneath.