Summer days are not easy for dogs. Things have been heating up, and they don't know it when they are at risk of heatstroke. So here, Happy and Polly will give you 10 best ways to keep your puppy cool and prevent dogs from heatstroke and dehydration this summer.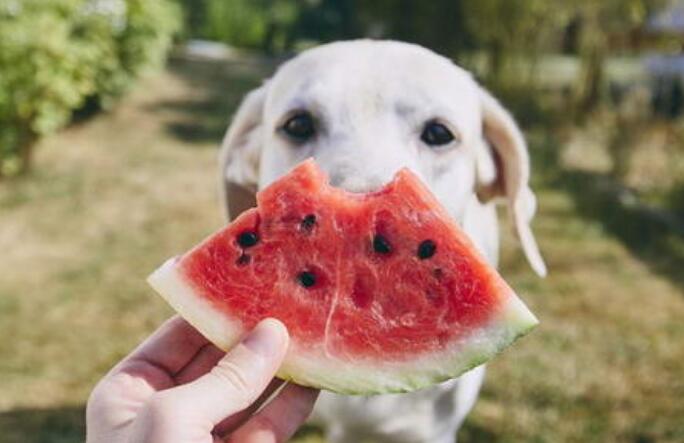 Beach or Lake
The first way to keep your canine cool is to take them to the beach or the lake. It is the best way to cool off your dog and give them exercise. If you don't live near a beach, plan a trip to a lake or a waterfall. Whatever it is, your dog will love you.
Pool
Second would be to put your pooch in the pool. If you don't have a full-size built-in pool, you can have a try with that kiddie pool. Your puppy will be excited when you pull it out. It is especially great because it's easy to move around and pack up and to keep clean.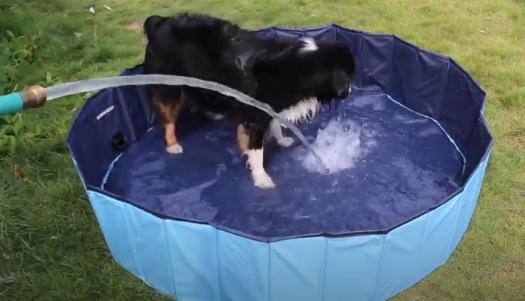 Hose
Number three is hose off your hound. Dogs love drinking from the hose and splashing in it and being sprayed with it. You can also have a try with some awesome sprinkler attachment that water shoots out of. And it's just a great quick easy fun way for your puppy to cool off and to have some fun and playtime.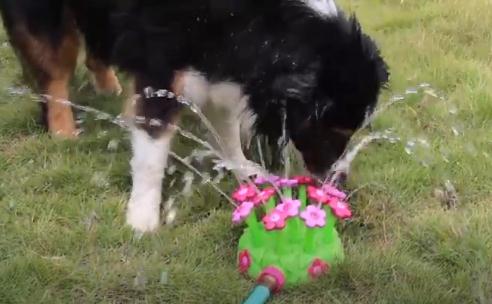 Shave or De-Shed
Four would be to shave or de-shed your dog. There are 2 layers of coat to protect them against cold weather. In summer, you should shed soft undercoat off, which lies close to dog's skin and we would definitely recommend doing this outside because so much fur will come off and fly everywhere. As for grooming tool, you can have a try with our Dog Comb Brush Set.
Cooling Mat
Next would be these dog cooling mats. The gel cooling pad uses a polymer cooling hydrogel, similar to the polymer gel for baby fever. The high water content of the polymer gel can efficiently absorb the body heat into the gel cooling pad. You can also put it in the freezer beforehand so that it gets nice and cold kind of like laying down on an ice pack.
Cooling Cloth or Cape
Next would be a cooling cloth or a cooling cape, which is made of polyester fiber cold-feel material. It is windproof and warm when it is dry, and it can cool down quickly when it is in water. Each piece of clothing comes with a portable water cup, which can be filled with water when traveling, so as to continuously cool the dog when there is no water source, and can also easily store wet clothes that have been removed from the dog. >>More Cooling Cloth
Ice Cube
Next will be good old ice cubes. You can give these to your puppy on the regular during the summer. They're such an easy fast way to cool off your dog and give them a nice little treat. You can put the cubes in their water bowl to cool it down or just give them to your puppy to play with.
Water Toys
Next would be water toys. You can just fill a water toy with water, pop it into the freezer for a little bit, so it's nice and frosty, and then when your dog chews on it, it can dissipate heat. The inside is antibacterial cotton, the dog is more comfortable and cool when playing and chewing, cool all summer.
Frosty Treat
Next would be frosty treats. You can give you puppy some ice cream or popsicles during the summer. Watermelon is also ok for your puppy to eat. But remember that you need to get rid of the seeds first. It is a great way to occupy your dog and keep it cool at the same time.
Water bottle & Bowl
Last but not least, a water bottle and a bowl. It is so important to make sure your dog has access to water at all times. Dogs exert a lot of energy. They can overheat really quickly and they drink a lot of water, so get in the habit of bringing water with you whenever you take your dog for a really long walk or hiker to the beach or to the park. These collapsible bowls are awesome. Make sure you get an insulated water bottle so your water stays nice and cold.
We hope this can help you keep your pet cool all summer. If you enjoyed it and would like to see more news, do not hesitate to visit Happy & Polly official website.